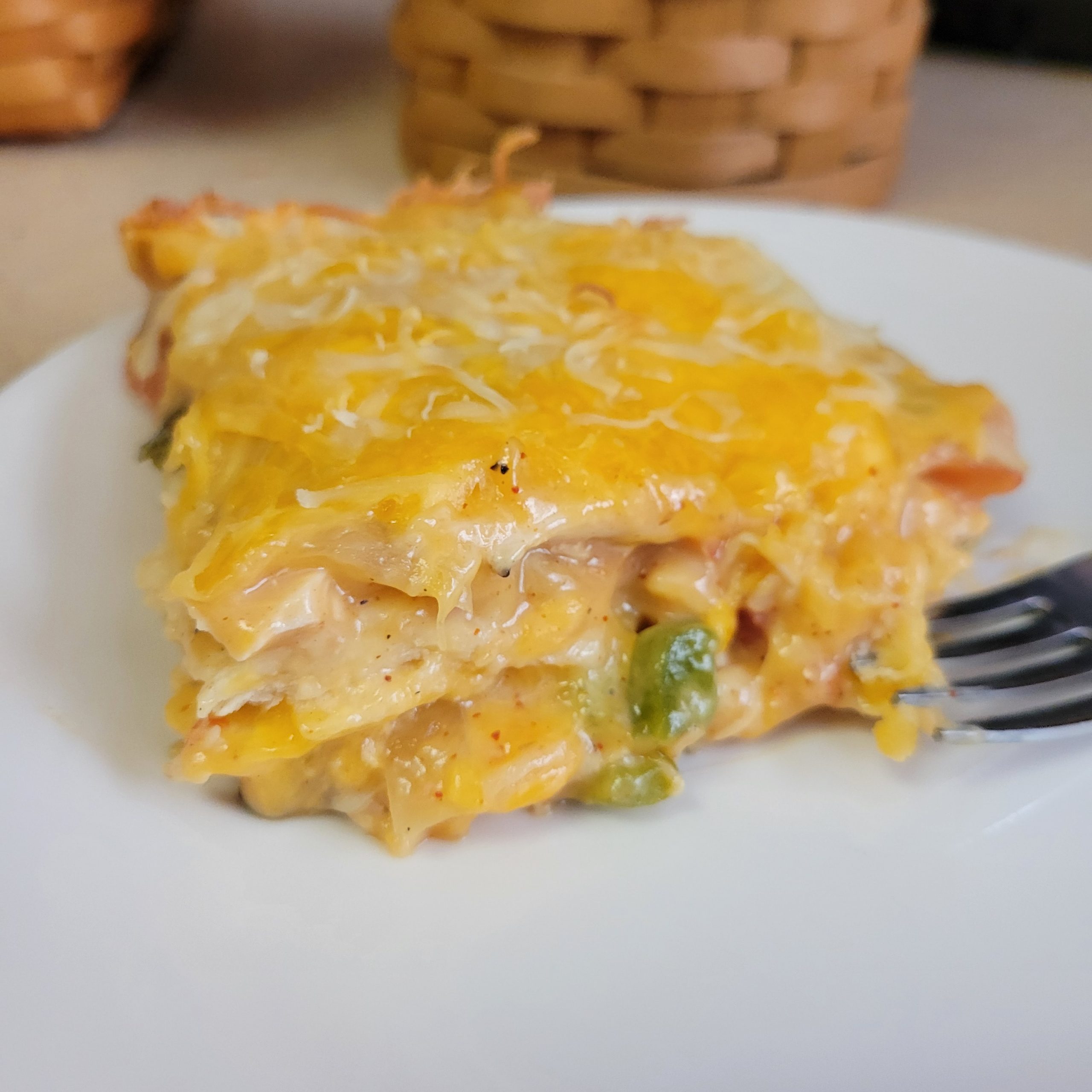 This week's recipe is King Ranch chicken casserole. This comforting casserole showcases the flavors of Tex-Mex cuisine with melty layers of chicken, tortillas, and cheese.   The King Ranch chicken casserole recipe is named for King Ranch in Texas, the biggest ranch in the United States. The King Ranch dates back 160 years to 1853 and covers 825,000 acres. Through the years King Ranch has developed two breeds of cattle, bred Quarter horses and bred champion Thoroughbreds. Today's King Ranch is a major agribusiness with operations in ranching, cattle, horses, hunting, farming, citrus, turf grass and licensing partnerships. One such partnership is the Ford King Ranch package on trucks.  The casserole does not have any known ties to the ranch and the origin of the dish is unknown, but has been around since the 1950's.  With over three million Google results, there are many different variations of this recipe but most have a sauce made with RO-TEL diced tomatoes and green chilies, condensed cream of chicken and cream of mushroom soups, bell pepper and onion, chunks or shreds of cooked chicken layered with corn tortillas and cheese.  
      A favorite of my mom's she made this frequently. This recipe calls for a 9×13 casserole but she used two 8×8 baking dishes. She would freeze one to use during a busy week or to give someone who needed comfort food.  In the last few years, she would use rotisserie chicken instead of cooking her own. The type of RO-TEL tomatoes and chilies chosen can be based on how spicy you want this casserole to be.  If you make this in advance, all you need to do is assemble the casserole, bake it, and let it cool before freezing it for up to a month. When you are ready to eat this casserole, let it thaw in the refrigerator overnight and stand at room temperature for about 30 mins before you reheat it. 
 King Ranch chicken casserole
1 Large onion chopped
1 large green bell pepper chopped
2 Tablespoons vegetable oil
2 cups chicken, chopped or shredded (I use a whole rotisserie chicken) 
1 (10 ¾ Oz) can cream of chicken soup, undiluted
1 (10 ¾ Oz) can cream of mushroom soup, undiluted
1 (10 Oz) can of diced tomato and green chilies
1 teaspoon chili powder
¼ teaspoon salt
¼ teaspoon garlic powder
¼ teaspoon pepper
12 (6 inch) corn tortillas
4 cups shredded cheddar cheese, divided
Sauté onion and bell pepper in hot oil in a large skillet over medium high heat 5 minutes; or until tender. Stir in chicken and next 7 ingredients; remove from heat. Tear tortillas into 1-inch pieces; layer one third of tortillas pieces into lightly greased 9 x 13 baking dish. Top with 1/3 of chicken mixture and 2/3 cup cheese. Repeat layers twice. 
Bake at 350° for 30 to 35 minutes.  Let sit for a few minutes; to set up before serving.