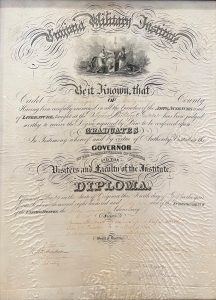 This diploma is from 1842, the first graduating class at Virginia Military Institute. 
Charles Peter Deyerle, who was awarded this diploma, was from Salem and a part of the prominent Deyerle family.  Charles was part of this first graduating class at VMI, and went on to become an army surgeon, serving in the Mexican American War. 
You can see this 1842 VMI diploma on display this weekend as part of the Salem Museum's Hands-On History Saturday program.  This month, Hands-On History highlights "Ghostly Possessions," items relating to this year's Ghost Walk characters.  On Saturdays, visitors can pull on a glove and touch a piece of history with their own hand.  
To learn more about Charles Peter Deyerle, come to Ghost Walk, Oct. 5-7.  East Hill Cemetery comes alive after dark just once a year.  Participants tour the historic graveyard and meet notable characters from Salem's past. These walking tours are family-friendly, fun, and informative, but not scary.  Tours leave the Salem Museum every fifteen minutes from 6 to 8 p.m. Advance tickets recommended.  Tickets are $10 for adults, $5 for students of any age, and free for children three and younger.  Tickets are available now at the Salem Museum and online at SalemMuseum.org.