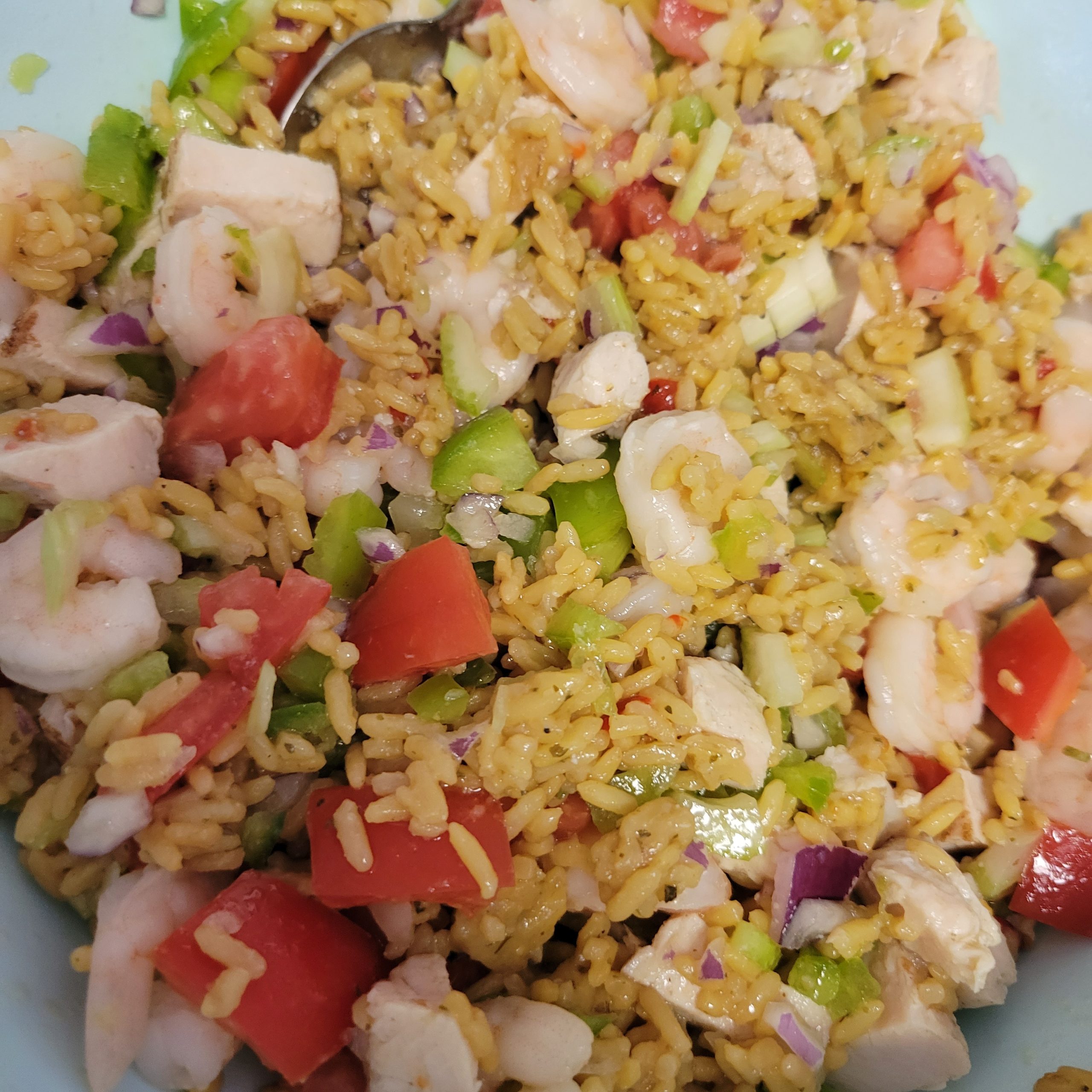 In the 70s and 80s my dad worked as an accountant for Kroger and every time they acquired another grocery store chain, he worked to integrate them into the company.  So, we moved every three to four years. This meant we met many new neighbors through the years. A neighbor in California gave my mom a paella salad recipe which we ate every summer. She was a lovely lady that moved to Orange County from Japan. Traditional paella is served warm but this is a cold salad. Considered by some to be the national dish of Spain, this dish originated in Valencia on Spain's rice growing Mediterranean coast.  A lunchtime meal cooked by farmers and laborers, they used rice and added in whatever they could find in the fields around them, tomatoes, beans, onions, and snails. Starting on the coast it is easy to see why seafood started being added. Paella is said to have been named from the pan it is cooked in, la paella. Now, paella is a generic name for over 200 rice dishes.  There are as many variations of paella as there are cooks. 
     Through the years my mom had to adjust some of the ingredients.  Tarragon vinegar was not always available where we lived, so she would use red wine vinegar and a pinch of dried tarragon.  She did find out that cooking her own small shrimp was best. Frozen cooked shrimp are too watery and don't have much flavor. The chicken can be poached, baked, or grilled but she started using rotisserie chicken when that became available in the store.  Uncle Ben's chicken rice changed to Ben's Original Ready Rice Chicken rice. She found that the tomatoes needed to be seeded and added at the last minute to keep the salad from being too soggy. The oil can be any you like but I use light oil like canola. She said to always chop the ingredients into the same small size so one flavor did not overpower another in each bite.  
     So, this Spanish recipe came from a Japanese lady in California, to an Arkansas mom, and now to all of you in Salem, Virginia. 
Paella salad
2 pouches Ben's Original Ready Rice Roasted Chicken flavor
2 tablespoons Tarragon Vinegar
1/3 cup oil
¼ teaspoon dry mustard
½ teaspoon Accent seasoning
2 cups diced cooked chicken
1 cup small cooked shrimp
1 large tomato, peeled and chopped
1 green pepper, chopped
½ cup minced onion
1/3 cup thinly sliced celery
1 Tablespoon pimento
1 teaspoon salt
Prepare rice according to package directions.  Mix cooked rice, vinegar, oil, salt, mustard and Accent. Cool to room temperature. Add remaining ingredients, toss lightly and chill. May be prepared the night before except the tomatoes, add those in right before serving.