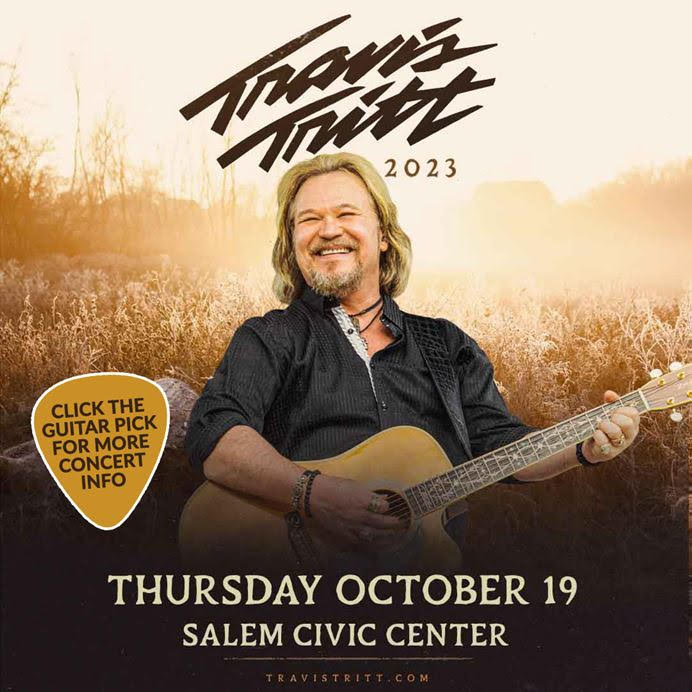 Multi-platinum selling and award-winning artist Travis Tritt is returning to the Salem Civic Center Thursday, Oct. 19, at 7:30 p.m. Tickets for the show go on sale Friday, Aug. 4 at 10 a.m. This performance is one of the many stops on Tritt's current stateside tour and his Salem concert will also feature Crawford & Power. 
The Marietta, Georgia native began his musical journey by incorporating his lifelong influences of Southern rock, blues and gospel into his country during a honky-tonk apprenticeship that led him to Warner Brothers in 1989. Tritt's albums, seven of which are certified platinum or higher, amassed more than 30 million in career album sales, two GRAMMY® Awards and four CMA Awards. The success earned him an invitation to become a member of the Grand Ole Opry and established a devoted fan base that has filled venues for decades.  
Tritt is a member of "The Class of '89," which includes Country music superstars Garth Brooks, Clint Black and Alan Jackson; all of whom dominated the charts in the early '90s. Among his eleven studio albums and numerous charted singles are 19 Top 10 hits, including "Modern Day Bonnie and Clyde", "Here's A Quarter" and "It's A Great Day To Be Alive." He also has five No. 1 singles including "Anymore." 
Crawford & Power kicked-off the show for Tritt when he played Salem in early 2022. The duo has made a name for itself opening for a who's who of country music legends. Crawford & Power have played with Willie Nelson, The Marshall Tucker Band, Cody Johnson and Luke Combs. 
Ticket prices range from $33, $43, $53, $68 and $88. Preferred parking is $10. 
Tickets can be purchased at the Salem Civic Center Box Office Monday through Friday from 8 a.m.–5 p.m. and online anytime at www.ticketmaster.com.
-The Salem Times-Register