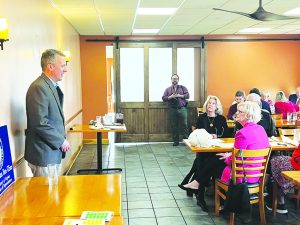 By Aila Boyd
aboyd@mainstreetnewspapers.com 
Rep. Ben Cline held his first town hall in Salem last Thursday at Lydia's Italian Kitchen. He started representing the city this year once it was moved out of the 9th Congressional District and into the 6th Congressional District during redistricting. 
"Getting to have a town hall here in Salem is fantastic. Thank you all for coming out," he began. "These are so important to me."
The town hall lasted roughly an hour and a half. During that time, Cline discussed many of the issues that will be coming before Congress during the current session, then answered questions from those in attendance.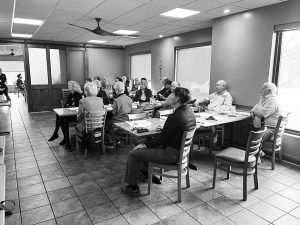 He started by discussing the new Republican majority in the House of Representatives. "We were able to elect a Republican speaker. We were able to get a number of rules changes that will make the institution work better, be more transparent, allow for more debate, which is what it's all about," he said. He expects a lot of robust debate at the committee level. "If we continue to work as a conservative Freedom Caucus together, we're going to be able to really influence the debate with a five-seat majority. The legislation coming out of the House at least will be very conservative or should be more conservative than it has been." 
The U.S./Mexico border was one of the topics he discussed in detail. He explained that communities like Salem are now for all intents and purposes a border community due to the fentanyl that comes across the border and is distributed throughout the United States. "It is really affecting communities all around the country," he said. 
He then touched on those who travel to the border from Central America and South America.  "There's a humanitarian crisis at the border. We have horrible conditions. We have women and children making these journeys when they need to be dissuaded from making these journeys," he said. "We need to secure the border. We need to change our asylum laws to clarify that just because you're looking for a better life for you and your family is not grounds for asylum."
Another topic he discussed was the looming need to raise the nation's debt limit. "We have $32 trillion in debt. When your kids bust through the credit limits or bounce checks, you don't just pay the bill then let them raise their credit limit," he said. "You've got to actually put some rules in place. That's what we're trying to do—put some rules in place for spending."