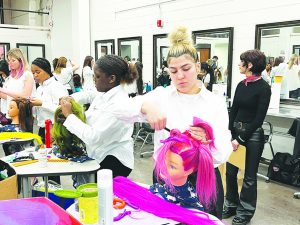 Contests were held for cosmetology, auto tech, auto body, welding 
By Aila Boyd
aboyd@mainstreetnewspapers.com 
The district competitions for cosmetology, auto tech, auto body and welding for SkillsUSA were held at Salem High School last Wednesday, Feb. 15. 
Students from eight schools, including Giles, Pulaski, Botetourt, Montgomery counties and Roanoke and Salem, participated in the competitions. All of the judges were industry experts.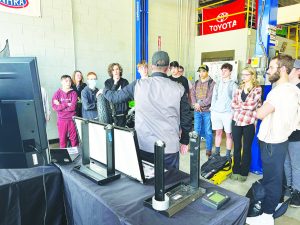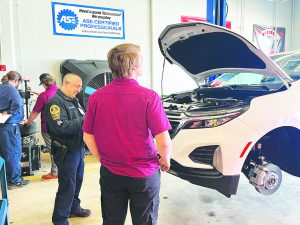 Derek Wray, an automotive and diesel technology teacher at Salem High School, explained that many of the participants will receive job offers from their interactions with the judges. "We're looking at networking and job opportunities. We have scholarships for the winners," he said.  
The cosmetology competitions included nails, aesthetics, fantasy mannequins, cosmetology and total fantasy. Many of the cosmetology judges were from Paul Mitchell The School in Roanoke, in addition to several judges who work for themselves. 
"They're judging the whole process," Elizabeth Meade, a cosmetology instructor at Salem High School, explained. The judges based their decisions on criteria like sanitation, technique and the finished product.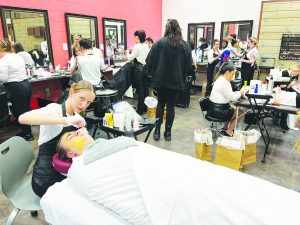 Five people from NASCAR Tech in North Carolina were at the school to judge some of the competitions. They brought with them a race car and race bike. 
"The goal is to pick the winners for our district to go represent our district at the state competition," Wray said. "We're trying to find the best of the best." 
SkillsUSA is a national organization. Those who made it past districts will proceed to the state competition in Virginia Beach. Only two participants per competition from each district get to go to the state competition. Those who succeed at the state competition then go on to the national competition, where prizes and scholarships are available. 
"Skills is about getting them out in the workforce and helping them be successful," Meade said.