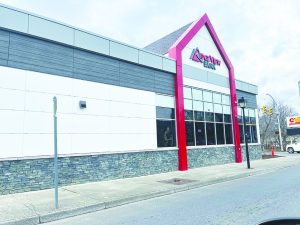 Branch to serve as inaugural SMART Center 
Aila Boyd
aboyd@mainstreetnewspapers.com
The community came together to help Ridge View Bank celebrate the opening of its first full-service location at 124 West Main Street in Salem last Thursday morning.
"I am incredibly excited to unveil our very first SMART Center," Carrie McConnell, president of the bank, said. "We can't wait for the community to experience a new level of banking and the personalized service they can expect from our entire team."
Bank officials describe the SMART Center as being a state-of-the-art, interactive station that will allow customers to interact with a live banker to perform various transactions, including the making of deposits, withdrawals, loan payments, cashing checks and checking on account balances and loan payoffs. 
Through the center, services will be offered before and after traditional banking hours. The center is now open Monday through Friday from 9 a.m. to 5 p.m., with extended drive-up hours including Monday through Friday from 7 a.m. to 7 p.m. and Saturday from 8 a.m. to 3 p.m.
"We are thrilled to offer a new approach to community banking for our customers and their businesses. We look forward to helping the Salem community and assisting them with their financial goals," Nancy Brubaker, assistant vice president and Salem community office manager, said.
Working out of the Salem branch will be five full-time personnel and a commercial banker.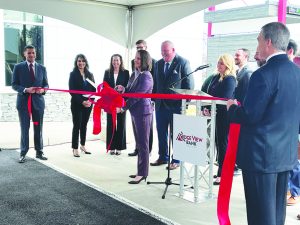 The opening of the Salem location is part of a larger effort by the bank of enter the Roanoke Valley market, with a SMART Center location scheduled to open at Smith Mountain Lake later this year and a headquarters in Roanoke that is scheduled to open in 2024.
"The unbelievably positive reception from our clients has enabled us to work on constructing multiple locations at once," McConnell said. "We have big plans for Ridge View and look forward to introducing ourselves to more of the community as we continue to grow."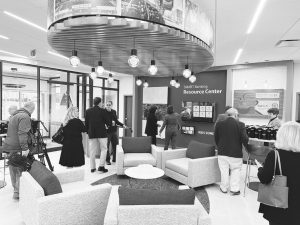 During the ceremony, the bank presented donations to the Salem/Roanoke County Food Pantry and Mrs. Dorsey's Clothes Closet. McConnell noted that the bank has contributed to more than 35 local nonprofit organizations to date.
Mayor Renee Turk provided some remarks during the ceremony. She noted, "Carrie and I are alum of Roanoke College, so it has special meaning to me to know that we have someone that understands and knows how important it is to have a relation-based feel for the people in this area and an understanding of what Roanoke and Salem are all about. We're so thrilled to be able to move forward with a bank that's going to service this area's businesses. They're going to take care of us because they know what it means to be a hometown bank and serve the people's needs."