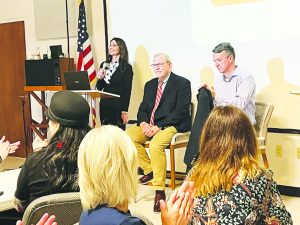 Aila Boyd
aboyd@mainstreetnewspapers.com
ROANOKE—The Salem-Roanoke County Chamber of Commerce held "Business Advocacy Breakfast: Breakfast with our Congressmen" on Friday in the WDBJ7 Community Room. Rep. Morgan Griffith (R-9th) and Rep. Ben Cline (R-6th) were in attendance. The event took place during a two-week Congressional district work session. 
The Congressmen answered questions from the chamber's business advocacy committee and those in attendance. 
The first question from the committee sought insight into how Congress will be able to work together given its current division, with Democrats controlling the Senate and Republicans controlling the House of Representatives.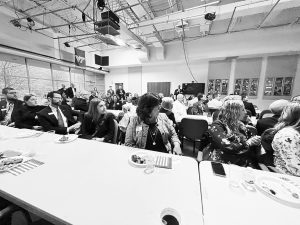 "Bipartisanship is something that requires two to tango," Cline said. He noted that since joining Congress in 2019, he's joined the Problem Solvers Caucus, a bipartisan House group. "Bipartisanship can get us to where we need to be on a lot of different issues, whether it is infrastructure, energy, transportation, education, job training." 
He added that he hopes both sides can come together to resolve issues at the U.S./Mexico border. 
Griffith said that although he doesn't know all of the Democratic members he serves with on various committees, he has come to know many of them and has been able to find common ground on certain issues. "She calls me her 'crazy conservative friend.' I call her my 'crazy liberal friend.' We disagree on most policy, but what we do agree on process issues," he said of a Democrat he serves with on the House Committee on Energy and Commerce.