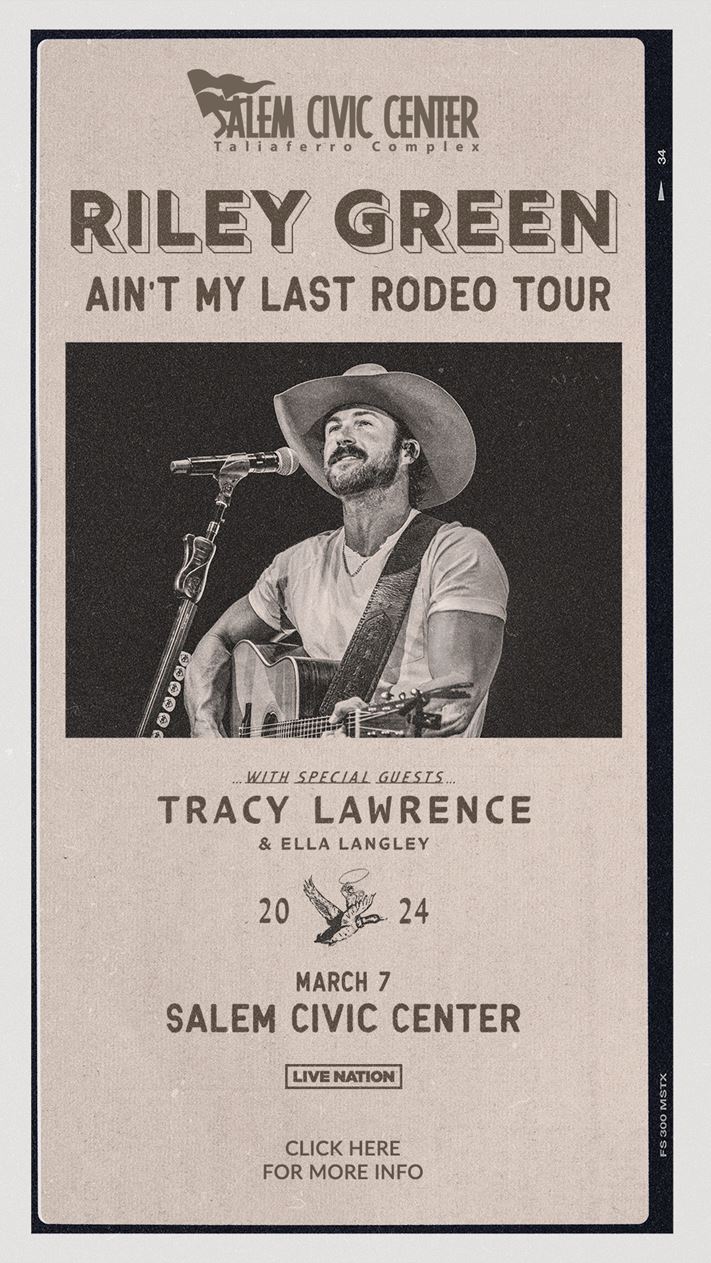 Riley Green, the Academy of Country Music's new male artist of the year in 2020, is set to make his first appearance at the Salem Civic Center. Green will be joined by Tracy Lawrence and opening act Ella Langley when he hits the arena's historic stage on March 7, 2024. Tickets for the show go on sale Friday, Sept. 15 at 10 a.m.
Raised on the sounds of traditional Country, Bluegrass and Southern Gospel music, the Jacksonville, Alabama native learned the spirit of songwriting and performing at a young age while spending time with his grandfather, Buford Green, who ran the Golden Saw Music Hall. That stage laid a foundation for the songs Riley would craft in the years to come and values learned from another generation.
He fittingly shares co-writing credits alongside his two grandfathers posthumously on "I Wish Grandpas Never Died," which sold more than 2 million copies and was certified two times platinum. His other big hits include – "There Was This Girl", "Different 'Round Here", and "Hell of a Way To Go."
Green also played football at Jacksonville State in Alabama and he appeared on the CMT reality series "Redneck Island". This will be his first headlining tour after opening for the likes of Luke Combs, Morgan Wallen, Luke Bryan, and Brad Paisley.
Lawrence has had more than 40 songs land on the Billboard Hot County Hits charts in his illustrious career and he has recorded eight number one singles. His number ones are – "Sticks and Stones", "Alibis", "Can't Break It to My Heart", "My Second Home", "If the Good Die Young", "Texas Tornado", "Time Marches On", and "Find Out Who Your Friends Are".
Tickets can be purchased at the Salem Civic Center Box Office Monday through Friday from 8 a.m. – 5 p.m. and online anytime at www.ticketmaster.com