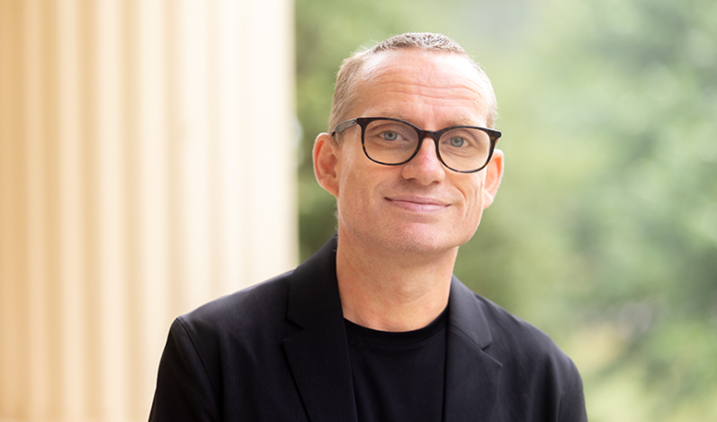 Weiss asked to focus fellowship on Roanoke College to learn about liberal arts colleges
Roanoke College recently announced it will host its first American Council on Education Fellow. Robert Weiss, a professor in the Department of Geosciences at Virginia Tech, will spend the 2023-24 academic year working with and learning from Roanoke College President Frank Shushok Jr. and his leadership team. Weiss requested placement at Roanoke College to learn about innovation in the small, liberal arts college sector.

Established in 1965, the ACE Fellows Program is designed to strengthen institutional and leadership capacity in American higher education by identifying and preparing faculty and staff for senior positions in college and university administration. Nominated by Virginia Tech President Tim Sands, Weiss is among a highly selective group of 36 emerging leaders in the 2023-24 class of ACE Fellows.

"ACE Fellows acquire career-enriching experience in leadership, innovation and problem-solving, just the kind of skills needed to advance higher education," said ACE President Ted Mitchell. "The Fellows Program provides institutions and participants the unique opportunity to grow together, and I am excited to see all that this class of fellows accomplishes."

More than 2,000 higher education leaders have participated in the ACE Fellows Program over the past five decades, with more than 80% of fellows serving as senior leaders of colleges and universities. Shushok was named an ACE Fellow in 2017 and took up residency at Wake Forest University, where he focused on fundraising, alumni engagement and enrollment strategy.

"At Roanoke College, we want to be at the forefront of transforming higher education to meet the needs of today's and tomorrow's students so they can live lives of purpose and take on society's most pressing needs," said Shushok. "Hosting an ACE Fellow — particularly someone as experienced, curious and passionate as Dr. Weiss — offers a tremendous opportunity for us to stretch our thinking by inviting new perspectives, ideas and questions about the essential contributions of small, 21st century colleges like Roanoke College for the future of higher education in this country."

Weiss joined the faculty at Virginia Tech in 2011 and currently serves as professor of natural hazards in the Department of Geosciences, director of the Academy of Integrated Science in the College of Science, and director of the Center for Coastal Studies in the Fralin Life Sciences Institute. He recently completed a two-year term as Faculty Senate president at Virginia Tech, where he represented the interests of faculty within the university's system of shared governance. Weiss earned his Ph.D. equivalent at Westfalische–Wilhelms-University, Münster, Germany, and his diploma (Master of Science) at Friedrich-Schiller-University, Jena, Germany.

"Building knowledge and expertise through firsthand experiences is at the core of our commitment to professional development of academic leaders," said Cyril Clarke, executive vice president and provost at Virginia Tech. "I am pleased that through the ACE Fellows Program, Dr. Weiss will continue to build upon his existing leadership experience gained as director of the Virginia Tech Center for Coastal Studies and Academy of Integrated Science in College of Science as well as past president of the Faculty Senate, to advance Virginia Tech's mission."

Weiss said he looks forward to observing and learning from Roanoke College's leadership team.

"I was drawn to Roanoke College as a host institution because of its focus on student engagement and relationships as key elements of a transformational liberal arts education," he said. "I am excited to learn how relationships are woven into institutional strategy and shared governance, particularly given the significant size and cultural difference between Roanoke College and my home institution."

The ACE Fellows Program combines retreats, interactive learning opportunities, campus visits and placement at another higher education institution to condense years of on-the-job experience and skills development into a single academic year. Fellows are included in the highest level of decision-making while participating in administrative activities at their host institutions. Time is also spent investigating a specified issue of benefit to their nominating institutions for implementation upon the fellows' return to campus at the conclusion of the fellowship placement.
-The Salem Times-Register