By Brian Hoffman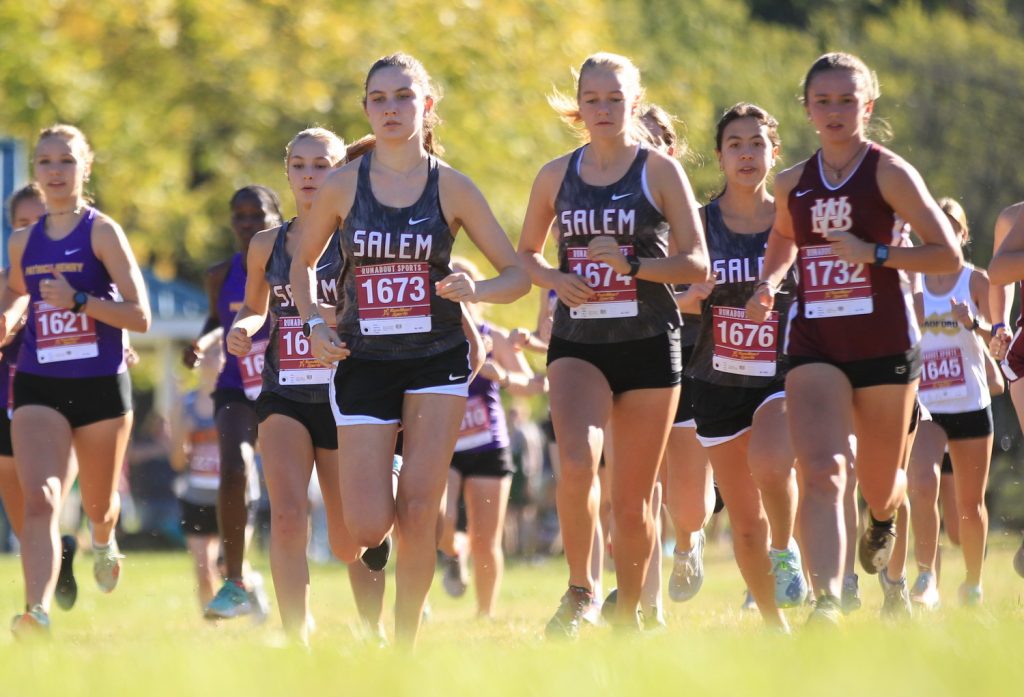 The Salem and Glenvar cross country teams had a busy week as both team competed in the East Mont Invitational in Shawsville and Glenvar also competed in the "Runnin with the Wolves" event in Forest on Saturday.
The East Mont races were held at Camp Alta Mons and it's a beautiful setting as the leaves begin to turn. Salem won the boys' race with a team total of 70 and Glenvar was third with 82. Floyd County finished second in the nine team field with 79 points.
Walker Peterson led Salem with a fourth place finish and Carson Tucker also earned a medal with an eighth place run. The next five for Salem were Alex Helems,Nathan Bowers,Lance Toapanta,Zane Easter and Rick Rawlins.
Salem's jayvees placed first and had the top four runners, paced by overall winner Grant Horner.
For Glenvar, Heath Bowker ran a time of 18:10 to finish second overall in the varsity race, nine seconds behind winner Mason Erchull of Floyd County. Davis Norman was fifth, Caden Bowker was 15th and Charlie Horrell was 20th. Also running were Tyler Davis, Aldin Smith and Tucker Henderson.
Floyd County won the girls' race with Salem fourth and Glenvar sixth among eight teams in the field. Brooke Bowers led the Spartans with a ninth place finish in 23:01 while Olivia Hurd of William Byrd won the race in 21:15. Elizabeth Bocock was next for Salem in 11th place, followed by Ryan Long, Callie Conner and Lyndsye Rothkopf.
Joanne Killeen led the Highlanders with an 18th place finish while Everly Shanks was one spot back. Also running were Anna Hall, Molly McCroskey, Emma Pope, Leah McMahan and Izabella Lavoie.
"Both teams had great races at the East Mont Invitational," said Glenvar coach Amanda Spradlin.
On Saturday in Forest both Glenvar teams finished fifth. Heath Bowker was 14th overall to pace the boys while Norman took 18th. Shanks was the fastest girl for Glenvar with a 26th place finish.
"The majority of the team shaved off time and some runners even got new PR's," said Spradlin.
Both Salem and Glenvar were scheduled to run at the Salem Municipal Golf course on Wednesday of this week along with Lord Botetourt and Cave Spring. Next Wednesday, October 19, both teams will compete in the annual Metro Cross Country meet in Blacksburg.