---
Shawn Nowlin
shawn.nowlin@ourvalley.org
The City of Salem was blanketed with roughly five inches of snow last weekend, most of which fell in the early hours of Sunday morning.
Snow days, said city resident Monica Morris, are a perfect time to enjoy a cup of hot chocolate. Morris, like countless other locals, fully embraced the snow and did not let the low-digit temperatures negate her from having some fun.
---
---
"The first thing I did Sunday morning was wake up my two kids, ages 11 and 14, and ask them what they wanted to do. We made a list of five goals and were able to accomplish all of them," she said with a smile. "It's always nice as a parent to see your children having fun and genuinely getting along. I enjoyed the because they will probably be arguing over the remote-control next week."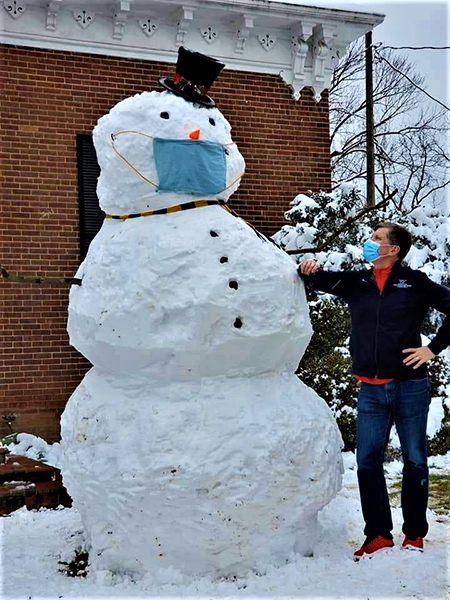 Martin Giles, 12, said he made about $75 shoveling snow Sunday. The middle school student said he would have made even more if he didn't have to do homework on a school night. "My parents told me that they would match whatever I made throughout the day. The PlayStation 5 that I want costs $800. Today was a start, but I still have a way to go to meet my goal," Giles said
Elaine Hunt and her mother share a love of the snow. Few things bring Hunt joy like building a snowman with her mom. "We have done this at least once going back 12 years now," she said. "The best part is taking plenty of pictures when we are all done."
Throughout the city, people covered their cars to protect them from ice and snow, had snowball fights, visited Lake Spring Pond, sled down the hill at Longwood Park and more.
---
Starting at the Salem Museum, John Hale said he walked all the way down Main Street, taking hundreds of pictures along the way. "It warmed my heart to see so many people embrace the winter weather with friends and family. If this is the worst that we get this year, at least I have it documented in photographs," he said.
According to accuweather.com, there is at least a 30 percent chance that it will snow again on Wednesday, February 10.