By Meg Hibbert
Young couples who work on Saturday, people getting off work who want fresh vegetables and hungry passersby stopped by the Tuesday afternoon Salem Farmers Market this week.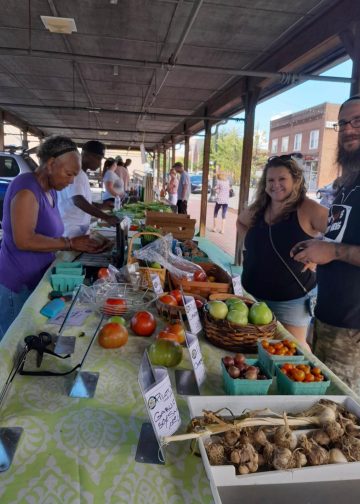 The first afternoon market of the season on July 19 produced positive reviews from customers and vendors. "I love it. It's a lot easier for us since we both work on Saturdays," said Jesse Ayers, who was happily selecting real vine-ripe tomatoes.
Ayers and his wife, Maria, and 2-year-old son Grayson were choosing vegetables grown by "Go God, Go Green" vendors Gayle Martin and Teddy Helm of Pilot.
There were big, fat cookies baked by Sammuel St. Fleur of Boho Bake and a choice of fillings for "make your own sweet Sammies."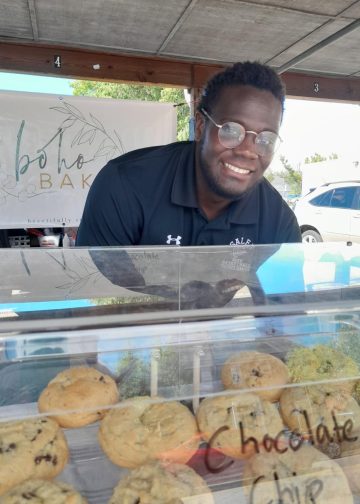 "It's a chance to get out and spread the name of your business," explained St. Fleur, who is a familiar sight at the Saturday Salem Farmers Market with his young family: wife Kelly, and children Finn 5, Ophelia, 2, and Primrose, 8 months old.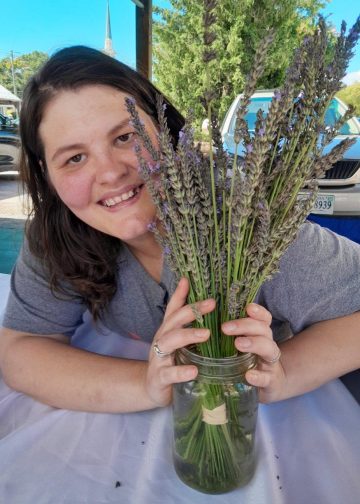 Debbie Szuch was there to buy lavender sachets from Allison Key at "For the Love of Lavender." Szuch explained she learned about this Tuesday's market from her Russlyn Farms Neighborhood website. Key also offers fresh bunches of blooming lavender and natural sprays at the Saturday market. "We've had a lot of people so far today," Key said.
A tantalizing odor came from the falafel for wrap sandwiches Antoinette Chahine of "Lebanese Baked Goods" was cooking at her booth. "I like having the Tuesday afternoon market because people coming from work can see and buy falafel," Chahine said.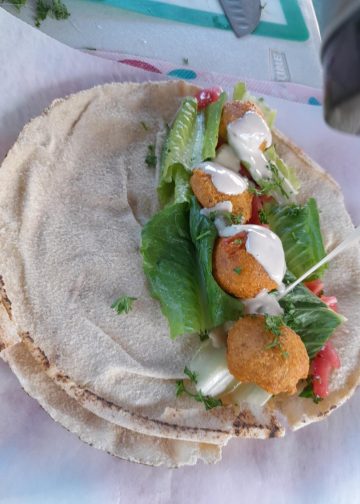 One stall down Krissy Reynolds' delicious-smelling products were attracting people. She makes "Sun and Spruce Soaps" with fascinating colors and fragrances.
"I like this afternoon market because it provides access to people who have jobs and can't come on Saturdays," Reynolds said.
Farmers Market Manager Isaac Campbell was busy selling wooden tokens that could be used with any vendor to people with credit and debit cards.
"Tuesday afternoons provide another opportunity for farmers and vendors to connect with the community," Campbell said. "It's good to have another market day for customers with SNAP and EBT cards to buy healthy, local produce with our matching funds."
The afternoon Salem Farmers Market is open from 3-6 p.m. each Tuesday through the end of August. The market is located at the corner of Main and Broad streets.
Campbell said more vendors are expected to come each week.