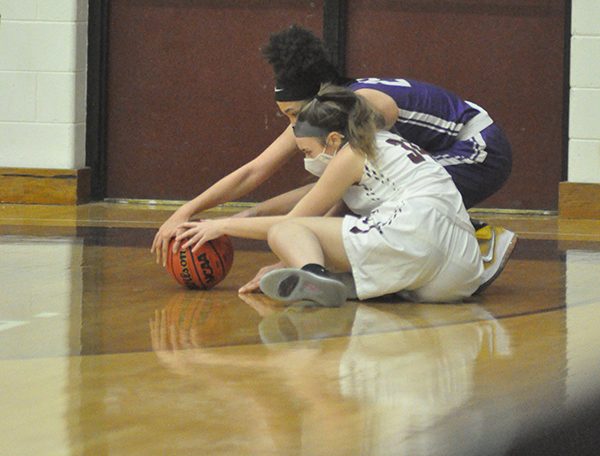 The Salem High girls will be looking to snap a three game losing skid tonight when they play host to Pulaski County. It will also be "Senior Night" for Moriah Hill, Mckenzie Moran, Haley Merritt and Augumn Poole.
The girls lost at Pulaski on Saturday sandwiched between losses to a tough Patrick Henry team. On Tuesday at PH the girls lost 64-43 to the Patriots despite a strong game by center Abbie Baker. She scored 18 points and led the team with 18 rebounds. Merritt had seven points for the Spartans.
Last Friday in Salem the Patriots took a 66-48 win over Salem. The Spartans led 12-8, after the first quarter but PH rallied to take a 34-26 lead by the half. Salem trailed by six with 4:30 left but got no closer. Kennedy Scales led the team with 20 points, Hill had a dozen and Moran had eight to go with seven rebounds and four steals.
"PH, is a great team but I think we beat ourselves when we played them," said coach Berlyn Seitz.  "I'd like to see us share the ball more on the offensive end while moving and scoring with more confidence."
On Saturday the Spartans had little time to rest as they played a noon game at Pulaski. The Cougars scored the final 14 points of the half to run to a 45-21 lead and went on to a 67-47 win.
The Spartans were led in scoring by Moran with 14, Hill with 11 and Scales with 10.  Scales also led in rebounding with seven and assists with four and she also had five steals.
The Spartans are now 1-3 on the season overall and 0-3 in the district. The seeding for the region tournament will be decided this coming weekend.
"As we look forward to these upcoming games we have to keep the regional play in mind," said Seitz.  "Pulaski is a big threat in the region. Pulaski is a talented team with a lot of depth, we struggled to get in rhythm and make buckets against them. When we meet again we need to be more prepared to communicate where shooters are and have a better defensive presence on their strong post play."