By Brian Hoffman
Photos by Kymin Davidson-Hamley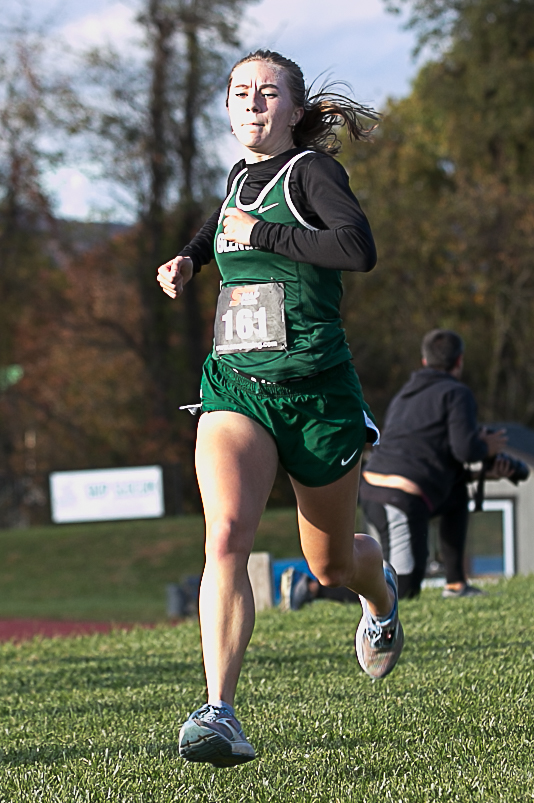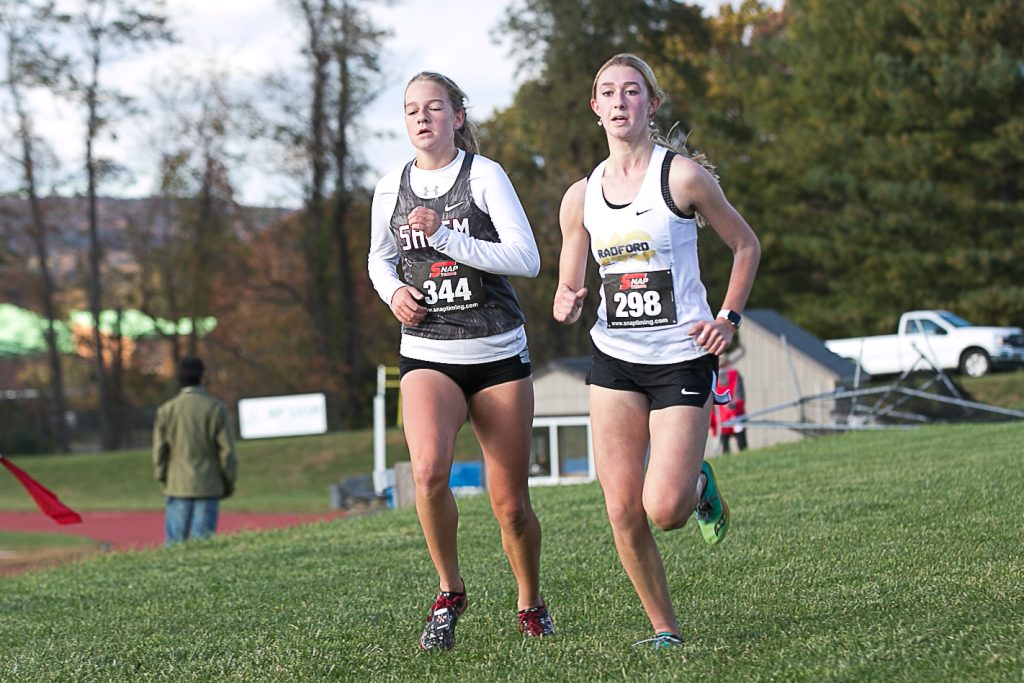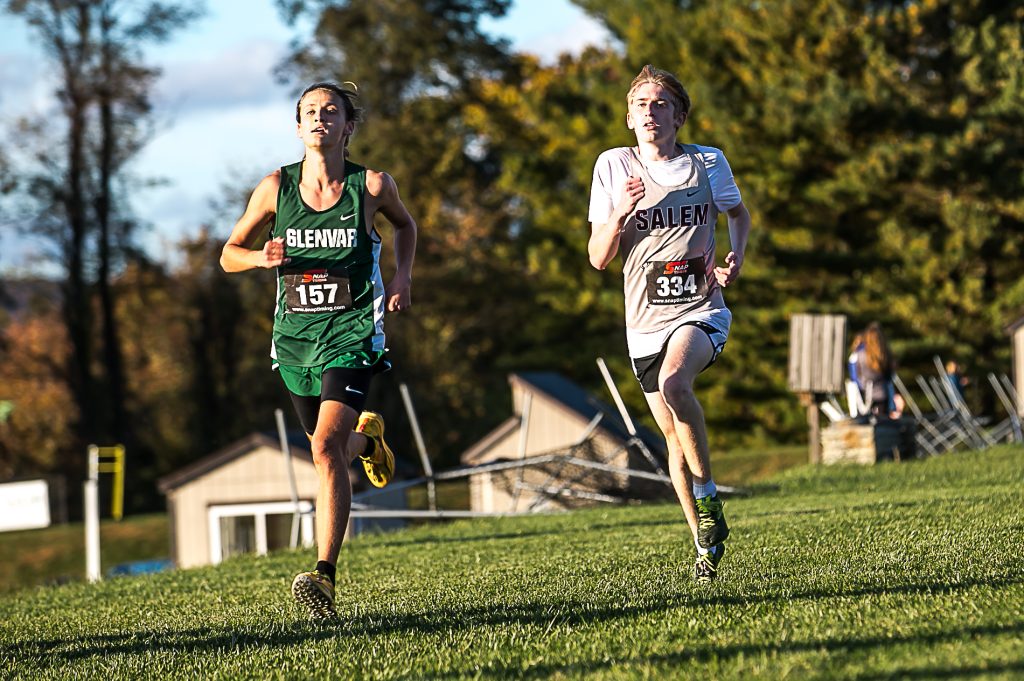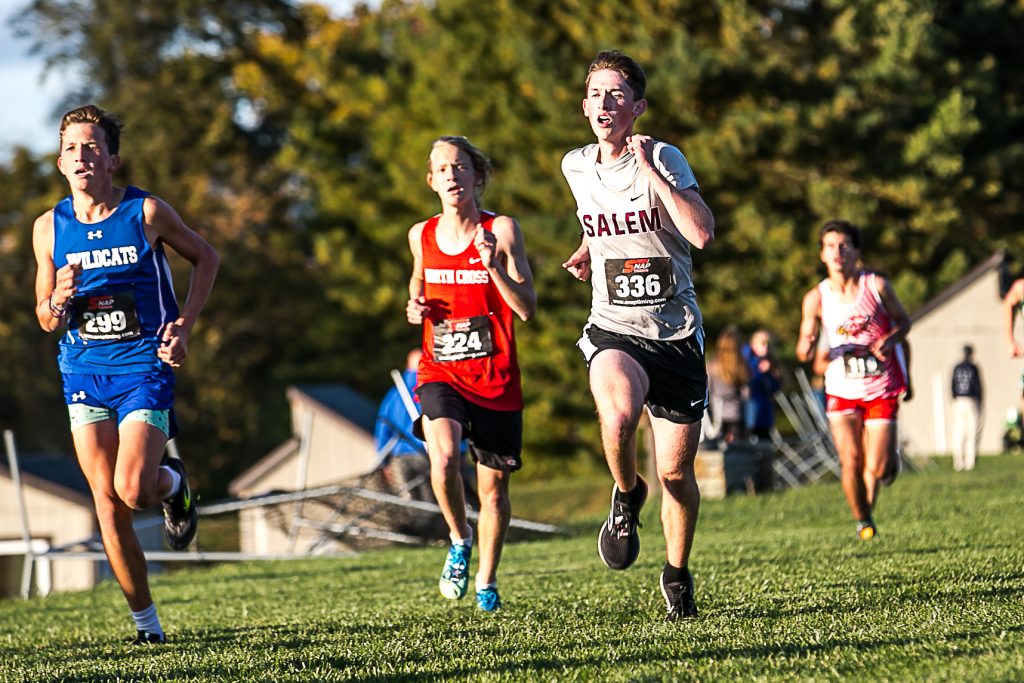 The Salem and Glenvar teams wrapped up the regular season last week as they competed in the annual Metro Cross Country Meet in Blacksburg. The host Bruins won the boys' title and Rockbridge edged Blacksburg to win the girls title.
Blacksburg scored 42 points to take first among 21 schools with teams competing in the boys' meet. Cave Spring was second with 97 points while Salem was fourth with 164 and Glenvar was seventh with 220.
Senior Nathan Atchue of Franklin County was the individual boys' winner with a time of 16:19 in the 5K race, beating second place Conner Rutherford of Blacksburg by 17 seconds. Salem's top finisher was Walker Peterson who ran a time of 18:08. Also scoring for Salem were Zane Easter in 22nd, Carson Tucker in 32nd, Alex Helems in 39th and Nathan Bowers in 64th place.
For Glenvar, Heath Bowker earned a medal by finishing 10th with a time of 17:30. Davis Norman was next for GHS in 20th place and also scoring were Caeden Bowker in 35th, Charlie Horrell in 42nd and Aldin Smith in 140th, one second ahead of teammat Tyler Davis. There were 188 boys who finished the race.
For the girls, Rockbridge edged Blacksburg, 35-42, to win the team title with Salem third with 140 points. Glenvar finished a solid fifth among 13 teams with 182 points.
Kerrigan Chaney, a sophomore from North Cross School, won the girls' individual title with a time of 19:20, beating Reese Bradbury of Blacksburg by 32 seconds. Salem's fastest girl was Brooke Bowers who was 21st in 22:41. Also scoring for the Spartans were Elizabeth Bocock in 23rd, Callie Conner in 34th, Ryan Long in 41st and Lyndsye Rothkopf in 50th place.
Glenvar was led by freshman Everly Shanks, who was 24th with a time of 22:53. Joanna Killeen was 36th and also scoring for Glenvar were Molly McCroskey in 51st, Anna Hall in 52nd and Lauren Michael in 64th. There were 129 girls who finished the race.
"Both teams ran decently well at Metro," said Glenvar coach Amanda Spradlin. "The focus moving forward is on the competition in the region as there is no district meet. All teams automatically advance to the region."
Region meets will be held next week. Glenvar will host the Region 2C meet at Green Hill Park in west Roanoke County on Wednesday, November 2nd, beginning at 3 pm.
The Region 4D meet is next Tuesday, November 1st, at Blacksburg High School. The girls will start at 4:30 pm with the boys due to take off at 5 pm. The top three teams advance to the state meet on November 12 in Leesburg as well as the top five individuals not on those teams.