by Brian Hoffman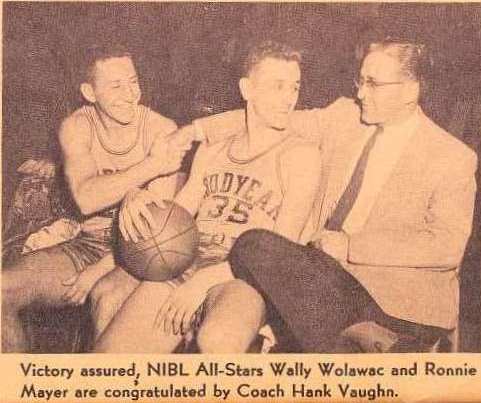 I was sad to learn of the passing of Walter "Wally" Walowac, who left us on Sunday morning at the age of 90. He was a good guy and someone I always enjoyed talking to, especially about our shared love for basketball.
A lot of folks didn't know about it, because he wasn't one to brag, but Wally was one of the all-time great players to have passed our way. A member of the Marshall University Hall of Fame, he held the Thundering Herd scoring record by a large margin when he graduated in 1954. His 1,982 points scored was a school record that would stand for 34 years.
A two-time, first-team All-State pick out of Logan High School in West Virginia, Walowac averaged 20.9 points per game over his four seasons for the Thundering Herd, including an amazing 29.1 points per game as a junior, still the second-best single-season average in school history at a time when scores weren't as high as they are now. As a senior at Marshall he had 44 point games against Ohio University and West Virginia Wesleyan. He was a Helms Foundation First Team All-American his junior and senior years.
Following his graduation from Marshall Wally was taken with the 20th pick of the 1954 National Basketball Association draft by the Milwaukee Hawks, who are now the Atlanta Hawks after a stop over in St. Louis. The first three picks in that draft were future NBA stars Frank Selvy, Bob Pettit and Gene Shue with Johnny "Red" Kerr going sixth. Other names basketball enthusiasts might remember from that draft are Slick Leanard(10th pick), Larry Costello(12th), Richie Guerin(17th) and Al Bianchi(18th). Those players were all big stars when I was a kid and several went on to be big-time coaches in the NBA.
Walowac would have likely signed a million dollar contract if he was taken in the same spot today, but in 1954 the NBA wasn't as big as it is now, and he chose to instead play for the Akron Wingfoots in the National Industrial Basketball League. That was a big deal at the time, and he was named to the league all-star team twice.
Wally settled in Salem after his playing career and raised a family here with a home in Beverly Heights. He kept up with college and pro basketball and I enjoyed getting his opinion on what was going on in the hoops world. He always had a smile on his face and time to talk to a fellow hoops lover.
"He was one of the finest men I have even known," said Salem's Henry Bradley, who came to know Wally well. "To me he was Jerry West in West Virginia before Jerry West. I always kidded him that he never had a shot he didn't take."
Walowac leaves us as a member of the Logan High, Marshall University and West Virginia Sports Hall of Fames, as well as a beloved member of the Salem and Glenvar area. He'll be missed and we were fortunate that he came our way.
LOOKING FORWARD TO THE WORLD SERIES
As many of you know I'm a life-long Phillies fan, so this year the World Series is going to be very special for me. Thanks to all my friends who have called or e-mailed to congratulate me on the Phils unlikely trip to the Series, even though I didn't pitch to one batter or have a single hit.
As Bill Cosby once said, and I almost hesitate to quote him, "I started out as a child." I got my first pack of baseball cards in my Easter basket when I was seven years old and was thrilled to find a card of Johnny Callison, who had been traded from the White Sox to the Phils in the off-season. I saw my first live big league game at old Connie Mack Stadium that year, 1960, and I was hooked for life.
It's been a tough ride. In 1964 the Phillies blew a six and a half game lead with 11 games to go and the Cardinals passed them to win the pennant. That was 58 years ago but I still remember it, and took some delight in the Phillies beating the Cardinals in the first round of the playoffs this year even though the players that are still alive from that 1964 season have to be at least in their '80s.
For a good part of my life growing up the Phillies were really bad, but I hung with them none the less. They had some of their best teams in the late '70s and, after a few heartbreaking playoff losses, they finally won their first World Series in 1980, and that was a thrilling time for me. They've won one more since, in 2008, while losing in the World Series to the Orioles in 1983, the Blue Jays in 1993 on a walk off home run by Joe Carter and the Yankees in 2009.
I've been a big fan all the while. I have every Phillies yearbook back to 1960 and have seen a game live every year since 1960 except for 1994. That year I had tickets to a game in August but the Major League players went on strike.
I probably have 30 or more Phillies hats of all kinds along with jackets, hoodies, jerseys, t-shirts and bobble heads. I'd probably be a rich man if I hadn't spent so much money on that stuff, but I found myself rich in a different kind of way watching them win the pennant on Sunday night. And, by the way, with an instant classic moment home run by Bryce Harper no less.
I'll be watching the World Series on the edge of my seat in the coming week, and I expect the Phillies will get a lot of support. I know the Astros aren't real popular outside of Houston after that cheating scandal of a few years ago. I saw them play a game in Cleveland this summer and every time Jose Altuve came to the plate he had "boos" rained down on him.
Whatever happens I've enjoyed the ride. As the last wild card team no one expected the Phillies to be still playing this weekend, so they're somewhat playing with "house money."
And, if they do happen to win, I might use a little of that house money to buy one more hat and shirt. . . .or two.
DANCING IN THE DARK
Daylight Savings time ends this Sunday. We get an extra hour of sleep for one morning and an hour less of daylight in the evening for the next four and a half months. Not a great trade-off if you ask me. I can sleep for an extra hour Sunday regardless of what the clock says.