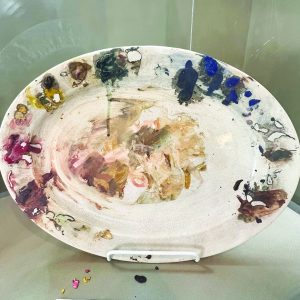 Happy Thanksgiving from the Salem Museum!
While most families this week are serving their turkeys on a platter, the Salem Museum has an example of an unusual use for these plates on display. 
Walter Biggs was a local artist who was well known for his illustrations and his depictions of local landmarks.  He often used turkey platters as his unconventional paint palettes.  He would put the pigments around the rim of the dish then mix them in the center of the plate.  This platter in the Museum even shows colors used in paintings from the Museum's collection.
You can see this turkey platter turned paint palette used by Walter Biggs on display now at the Salem Museum.  It is on view in the permanent exhibit "Small Town to 'Biggs' City: The Hometown Art of Walter Biggs."  Explore this gallery to see some of Walter Biggs works, and see if you can find paintings that may have been done with the turkey platter on display.  The Salem Museum is open 10 a.m.-4 p.m. Tuesday to Saturday and located at 801 East Main Street.