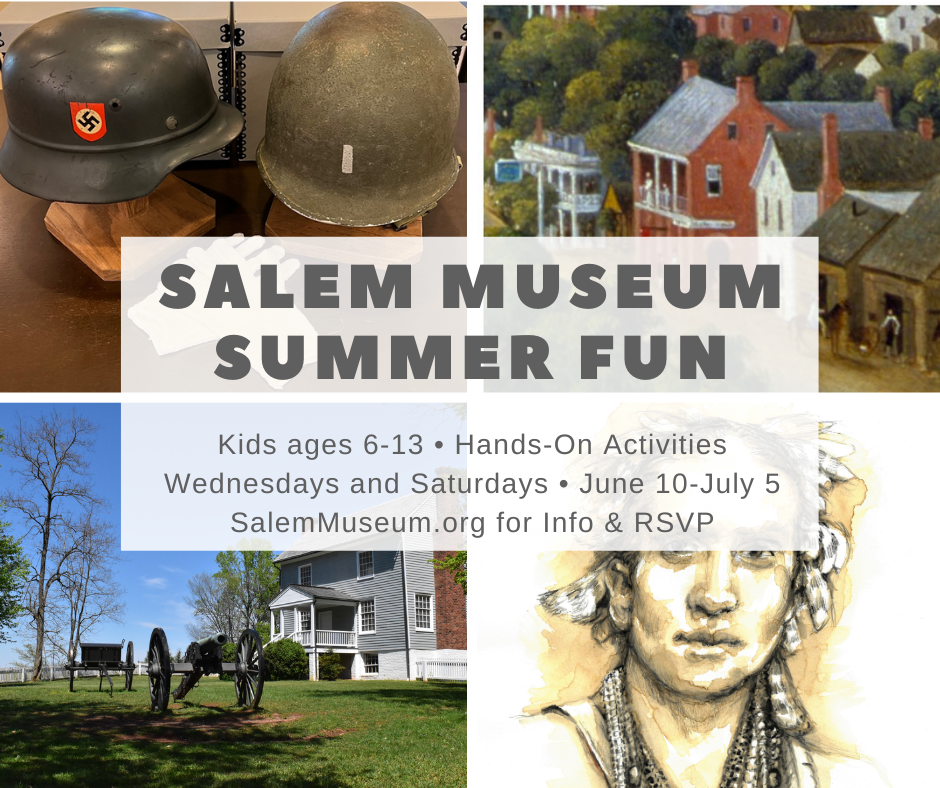 Join the Salem Museum for Summer Fun!  Announcing four new hands-on programs for children ages 6-13.  Kids are invited to explore local history this summer at the Salem Museum. They will learn interesting stories from Salem and Roanoke County's past, and get to hold pieces of history in their hand! 
Each hour-long program will be held on Saturdays and Wednesdays at 11 a.m. and again at 2 p.m. The content will be the same at both times each day. RSVP Required.  Call 540-389-6760 or email garrett@salemmuseum.org to register.  
All programs are free.
World War II and the Roanoke Valley, June 10 and 14
World War II had a big impact on local families!  Learn how local people influenced WWII both at home and overseas.
Life 200 Years Ago, June 17 and 21
Discover what the Roanoke Valley was like in the 1800s.
Civil War in Virginia, June 24 and 28
Explore why Virginia was important during the Civil War.  Learn what daily life was like for soldiers and their families back at home.
Native Americans at the River, July 1 and 5
Meet at the park (TBA) to explore the history of the Virginia Indians who lived here long ago.  Learn how we know where they lived and what their lives were like.