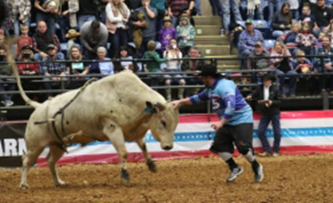 Southwest Virginia's favorite family-friendly event is back for the 56th year. The Salem Stampede Championship Rodeo bucks back into Salem Jan. 5-7 of 2024 with the same non-stop excitement fans have come to love for decades. 
Professional cowboys and cowgirls, many from Virginia, will be competing in rodeo's most popular events, sanctioned by the International Professional Rodeo Association. The IPRA competition features bull riding, bronc busting, and barrel racing, and it is not unusual to have contestants from across the United States and Canada, including current or former world champions, utilizing this event as a final tune-up for the International Finals Rodeo. 
The crowd-pleasing mutton busting is back for cowpokes ages 5,6 and 7, who weigh 50 pounds or less. Organizers said fans love seeing how far the youngsters can successfully ride a sheep in the arena. 
"Southwestern Virginia has always been good to us and last year was no exception," said Rodeo Spokesman Kevin DeBusk. "We had three sell-out performances, and we expect the same in 2024. We are so excited to be continuing the tradition of starting the rodeo season off at the Salem Civic Center." 
Tickets are start at $20 and go up to $30. They can be purchased at the Salem Civic Center Box Office or online at www.ticketmaster.com. 
-The Salem Times-Register