By Brian Hoffman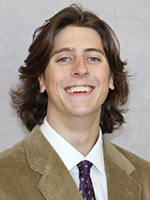 Salem's Trent Cheyney recently completed his lacrosse career at Bridgewater College with his best season yet.
Trent played in all 18 games for the Eagles during the recently completed spring season and scored 10 goals and assisted on four others as a midfielder. That gave him a four-year high of 14 points, and he also had career highs in ground balls with 33 and caused turnovers with a dozen. He scored two goals each in back-to-back wins over Wilkes and Virginia Wesleyan in March.
In four years on the Bridgewater team Trent scored 19 goals and had 11 assists for 30 points. Trent went to Bridgewater after playing for four-time conference champion Salem High.
Cheyney was teammates at Bridgewater with Grayson Rech, who was a defenseman at Patrick Henry and a former rival of Trent's in high school. This past season Bridgewater finished 10-8 overall with a 5-5 record in Old Dominion Athletic Conference games.