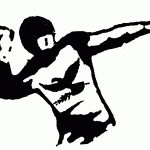 The Commanders took command this week. While everyone was picking Green Bay to beat Washington the Pack was left red faced with an embarrassing loss and Randal Sowers rode the warpath to victory.
Sowers missed three games and was one of just a few to do so, and the only one of the contestants with three losses who had the Commanders beating the Packers on Sunday afternoon. His other losses were picking Liberty over BYU and James Madison over Marshall, so you have to give Randal some credit for sticking up for the state schools.
While several others also missed three, Sowers was closest to the high point total of 45 by Oregon over UCLA, so Randal is the winner of a $50 gift certificate from Mac & Bob's and a Blizzard from Dairy Queen in Salem. How about those Commanders!!!
For last week's 19th hole I asked you to predict the score of the James Madison-Marshall game. Surprisingly, most of our contestants picked JMU to win that game despite the fact they were playing against a team that had already beaten Notre Dame. Well, you can mention the Dukes in the same breath as the Irish as they also lost to Marshall. Robert Almond picked the Herd to win 28-21 and that was the closest to the actual score of 26-12, so he gets a free day of golf, with pull cart, at the Salem Municipal Golf Course on Academy Street.
For this week's 19th hole question we have a big game down in Radford as the Bobcats are hosting Glenvar for bragging rights in the Three Rivers District. Give me your prediction on who will win, and the score, and winner will play all day at the historic course on Academy.
— BRIAN HOFFMAN