---
The Salem High Spartans will have their biggest challenge to date this Friday when they play host to Pulaski County in a River Ridge District football showdown. Game time at Salem Stadium is 7 pm.
Don't worry that Pulaski's loss to Patrick Henry last week has already locked up the number one seed for Salem in the coming Region 4D playoffs. The Cougars are still the second ranked team in the region and there's nothing they'd like more than to send a message to the Spartans for a possible rematch in the region playoffs.
"This is Pulaski," said Salem coach Don Holter, who has both played and coached in this long time rivalry. "Every year it comes down to us or them."
Salem has a 29-18 edge in this rivalry since Salem High opened in 1977. The Spartans won the first meeting but Pulaski won the next eight in a row before Salem took a 14-13 win in 1986 on the way to the state championship game with Hampton in what was then Group 3A when there were only three groups. That win turned the tide in the rivalry and Salem has won 27 of the next 37 games. The Spartans have not lost to the Cougars since the 2010 season and are 20-2 against Pulaski since 2003.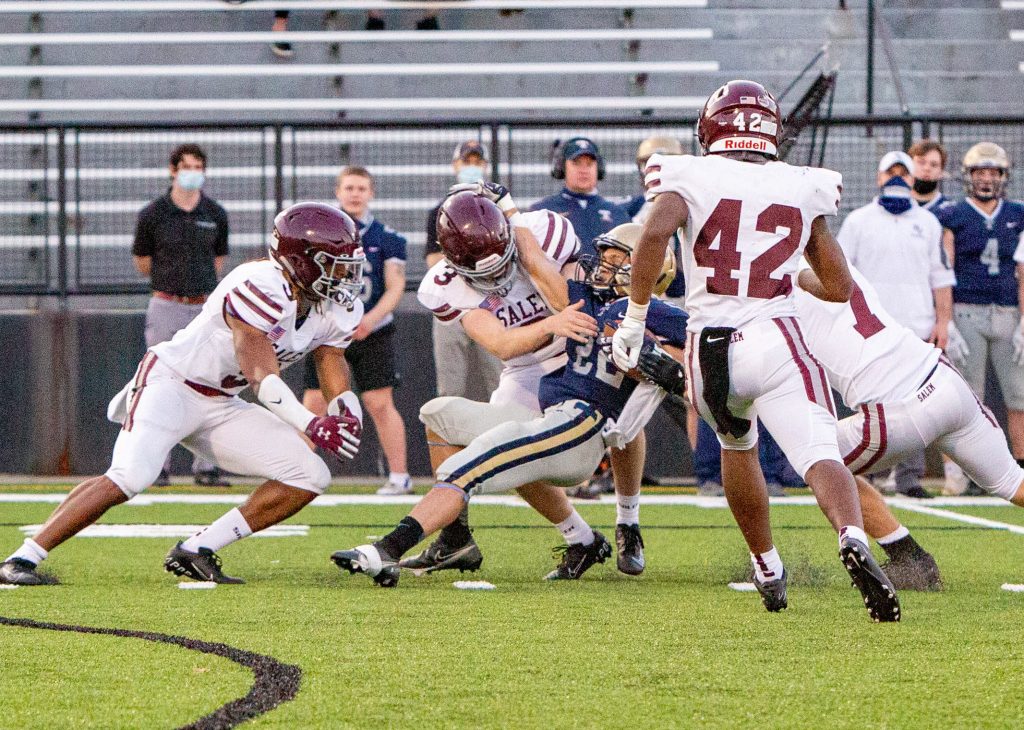 ---
Don't let that fool you, there were a lot of close games. Last year Salem won 12-6 in Dublin and it took an interception in the end zone in the final minute of play to put it away. Don't think the Cougars have forgotten.
This year Pulaski has a new coach in Mark Dixon, who had great success at Galax High School. Dixon took the Maroon Tide to the Class 1 state championship game three times, winning in 2015 at Salem Stadium against Riverheads. He's a well-respected coach and Holter has been preparing for a multi-faceted attack.
"They run a lot of different formations," he said. "They have good size and good skill and they'll get after you."
The Cougars come in at 4-1 and up until last week people were expecting this game to be for the top seed in the region. However, last Friday Patrick Henry pulled somewhat of an upset with a come-from-behind 24-23 win over the Cougars in Pulaski County. That knocked the Cougars out of a chance to catch Salem, and GW-Danville is nipping at their heels for the second seed. Pulaski had a 22.6 rating and GW is at 21.75.
Salem is a solid first at 26.0 and 5-0 after having their way with Hidden Valley last week. The Spartans took a 42-0 win at Bogle Stadium and in consecutive games at Bogle the Salemites outscored Cave Spring and Hidden Valley by a combined score of 105-7.
"I'm proud of our kids," said Holter. "It got a little chippy out there but our kids maintained their discipline and kept their focus. We went there and did exactly what we wanted to do, pick up a win."
Salem led 35-0 at halftime and for the second consecutive week they played with a running clock during the entire second half. Zavione Wood rushed for 117 yards and two touchdowns on just 13 carries and quarterback DaRon Wilson threw touchdown passes to Jake Massey, for 25 yards, and Shawn Collins, for 33. Wilson also ran for a TD and Collins ran back a kickoff for a touchdown for the second week in a row.
---
Wilson, a sophomore, has now established himself as the starting quarterback for the Spartans. Chauncey Logan, Jr. started the season behind center but "Deuce" got a little banged up in practice after the PH game and Wilson has started the last two. Logan has moved to wide receiver and he's also an outstanding defensive player.
"I have a lot of faith in both of them, but DaRon is our quarterback," said Holter. "With number 11(Logan) at receiver we can put more good athletes on the field and add to an already strong receiving corps."
On defense, Noah Collins led Salem with nine tackles while Cameron Martindale had eight. Addison Wolfe, Ky'won Waller and Carson Williams had seven each and Waller had three tackles in the backfield. Martindale and Wood had sacks.
---
"It was a good win but after the game I told the kids to enjoy this tonight, then get up on Saturday morning and start getting ready for Pulaski," said Holter.
This week Salem can have as many as 500 fans in the stadium. The policy of allotting two tickets per player, cheerleader and game personnel will continue and any extra tickets will be given to students with the stipulation they practice social distancing.
Salem's jayvee team remained undefeated with a 55-0 win over Hidden Valley at Salem Stadium last week. The Spartan jayvees are at Pulaski tonight.