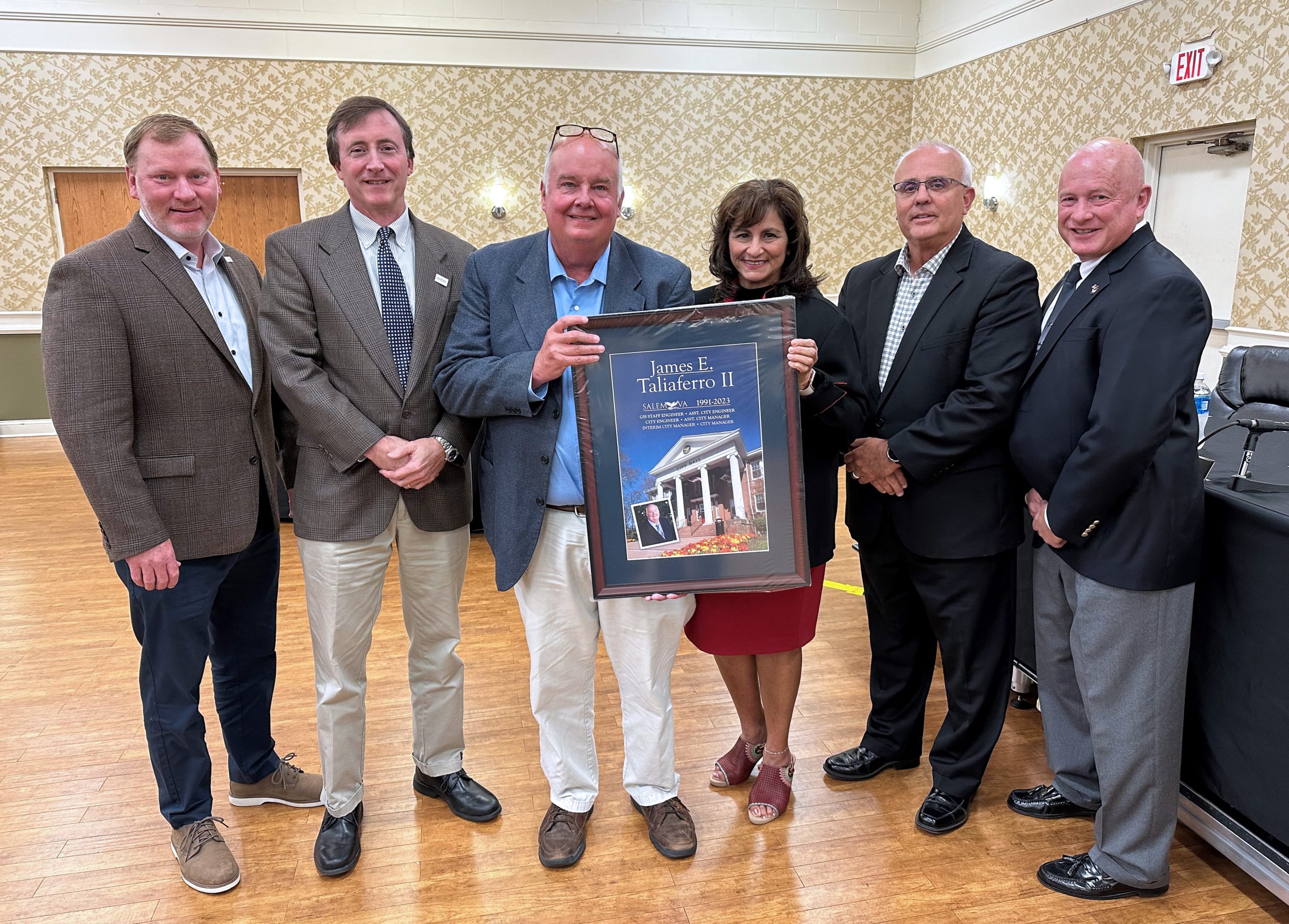 Meg Hibbert
Contributing writer
Jay Taliaferro was visibly moved when members of Salem City Council presented him with a framed award acknowledging his 32 years serving the city.
Taliaferro will retire Nov. 1. Council has approved a three-month extension of his contract while a search for a new city manager is underway and the new person gets up to speed.
Taliaferro is a home-grown boy, who grew up in Salem, graduated from Salem High School in 1984 and worked as city engineer then assistant city manager until he was appointed city manager in 2019.
 Mayor Renee Turk pointed out she taught him at SHS. She praised him for "being able to navigate through the uncertainty of COVID." The city accomplished $65 million in projects during his tenure, Turk and the proclamation said. 
They included bringing in the Phoenix corporation into the former GE plant, that will manufacture engines for Volvo trucks, and demolition and development of the former Valleydale meat packing plant that is being turned into an upscale apartment complex.
After posing with Councilmembers for a photograph of the award that features Salem City Hall and an inset of him, Taliaferro thanked them "and everybody in Salem. I don't know any greater honor than to serve your hometown," he said.
He said after retiring, he plans to "play a little golf and spend more time with family." Taliaferro was referring to his wife and two grown sons.
In other items at the meeting, Council:
Heard from three citizens during the Citizen Comment period. They were: 

Quinn Steen, who expressed concerns about possible rezoning and development of HopeTree Family Services property at the end of North Broad Street;  

John Breen, who was concerned about private streets in the Simms Subdivision, which the public is using; and

Stella Reinhard, who said Salem has no central park other than Longwood's 46 acres. She noted the last available greenspace in the city within walking distance to downtown.

Approved a resolution to accept and apply $1 million funding for streetscaping projects between Main and Market.

Approved an extension of a performance agreement for Parkway Brewing. The vote was 4-0, with Vice Mayor Jim Wallace abstaining from the discussion and vote due to his interest in Parkway.
The meeting adjourned at 7:07 p.m.