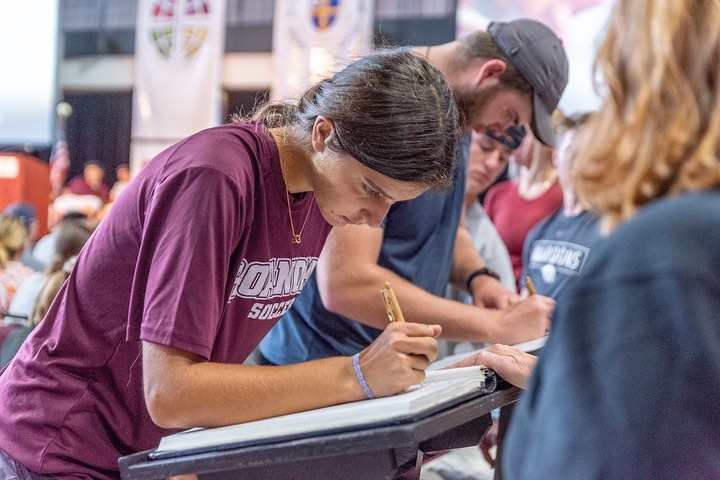 Wednesday marked first full day of classes
Aila Boyd
aboyd@mainstreetnewspapers.com
Welcome week for the Roanoke College Class of 2027 kicked off last Sunday, Aug. 27 when more than 600 freshman and new transfer students arrived at the campus. The move-in weekend included a robust lineup of events, including the "President's Welcome with Frank Shushok Jr." and a campus-wide cookout. 
"Nothing is more electric than a campus bulging with the energy, creativity, sensitivity, and capacity of new Maroons," Shushok said. "In these moments, it's not lost on me that we're beginning anew the business of preparing another generation of students to make their mark on the world. I'm grateful we get to be part of such inspiring work." 
The freshman class is the college's largest since 2019, representing 32 states and 31 countries. According to the college, 11.5% of the class are RC Honors Program students, 9% are international students, 46.6% are out-of-state students and 27% are Pell-eligible students. Additionally, 43% of the students are either first-generation, underrepresented minorities or come from underserved backgrounds. 
"As we start another school year, we are focused on making sure students have everything they need to succeed," Brian Reed, vice president for student success & the Roanoke Experience, said. "We're putting our hearts into creating a supportive community that encourages learning, creativity, and connection." 
The activities for Monday included a first-generation student meetup and a range of events, including art, dining and shopping, in downtown Roanoke.
An opening convocation, led by Shushok and Kathy Wolfe, dean, was held at 10 a.m. on Tuesday in the Cregger Center arena. Special guest speakers included Morehead Award winners Mazie Roop, a member of the class of 2026, and Raegan Middelthon, a member of the class of, in addition to Maggie Rahmoellar and Ivonne Wallace Fuentes, both of which received the college's 2023 Teaching Award.
While evening classes started on Tuesday, Wednesday marked the first full day of classes on the campus.