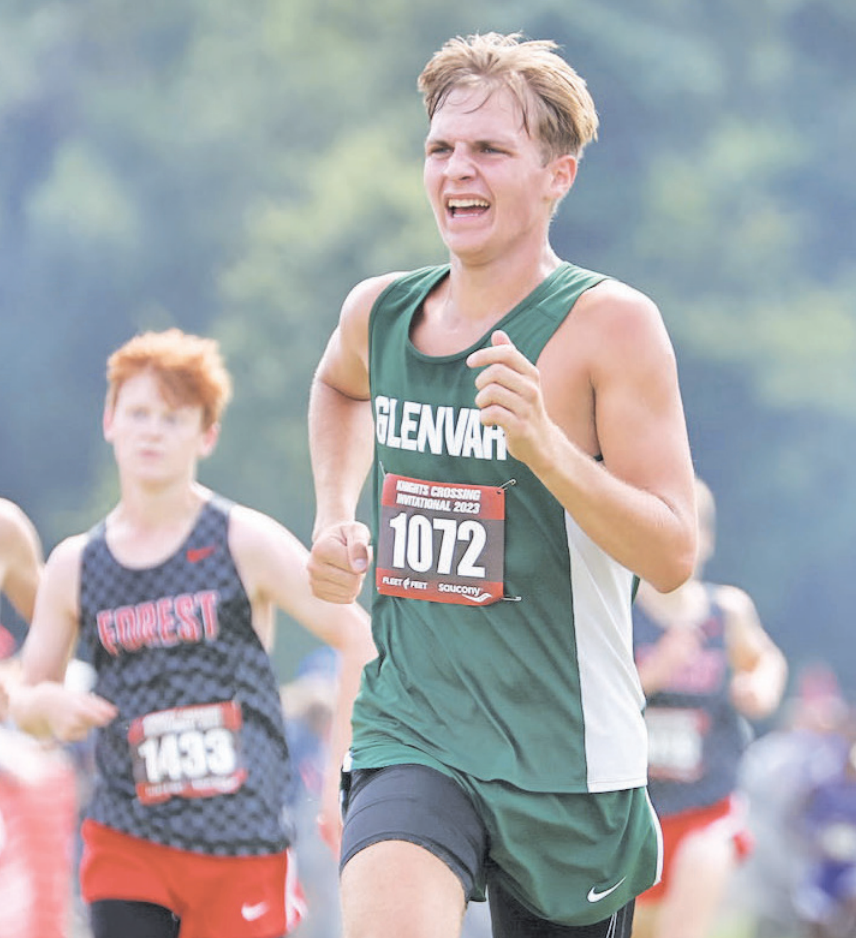 The Glenvar and Salem High cross country teams were among over 100 schools competing in the Knights Crossing invitational at Green Hill Park in Roanoke County last Saturday. Over 2,000 runners competed on a day that started out sunny and ended with thunderstorms. Both the Salem and Glenvar teams competed in the "Red" Division for Virginia public schools and out of state teams. There were 44 schools and 368 girls competing in the Red Division and 454 boys among 56 schools.
Cardinal Gibbons won the girls' team title and Blacksburg was first for the boys. In the girls' Red race Glenvar was 21st and Salem was 25th. Individually, Hannah Rae Shaffer of Cardinal Gibbons won the 5,000 meter race in 17:45.9. Glenvar's top finisher was Valeria Castillo, who came in an even 100th at 22:28. Also scoring for the Highlanders were Everly Shanks in 105th, Joanna Killeen in 154th, Anna Hall in 169th and Emma Pope in 176th. Salem's top girl was Addyson Funk, who took 73rd in a time of 21:46. Claire Rawlins was 191st and also scoring were Harper Rocovich(195), Lyndsye Rothkopf(212) and Ashlyn Davis(216).
For the boys, Salem was 27th and Glenvar was 32nd. The winning time was 15:04.3 by Bazil Mathes of Monticello. Salem was led by Carson Tucker, who was 90th in a time of 17:53. Austin Prosser was 134th and also scoring were Grant Horner in 202nd, Rick Rawlins in 214th and Isaac Snow in 217th place. Zane Easter was second overall in the White race, for schools not entered in the Red Race. For Glenvar, Charlie Horrell had the top time in the Red Race at 17:51, good for 88th overall. Spencer Britton was 114th, and also scoring were Aldin Smith at 194, Tyler Davis at 223 and Evan Harris at 299. In the 4,000 meter middle school race Glenvar's Bryce Austin finish fifth overall and Jaxson Kuzmich was 33rd as the Highlanders took fifth place among 35 teams.
Ava Poindexter was 21st in the girls' middle school race for the Highlanders. "Overall, we saw some lifetime PRs, season PRs, and we did very well considering the level of competition," said Glenvar coach Madison Bourne. For Salem, Gaven Horner took 22nd in the boys' middle school race and leading the middle school girls was Maggie Hutton in 105th place. This weekend Glenvar will run in a meet at Hidden Valley. Salem will be back in action on September 23 in a meet hosted by Alleghany High School.