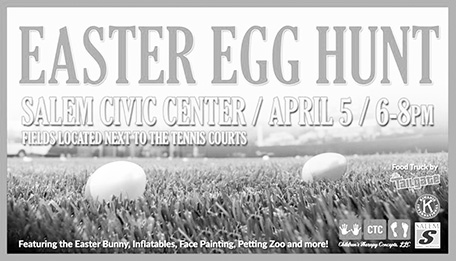 Due to constructure work at the Moyer Sports Complex, the City of Salem will hold its annual Easter Egg Hunt at the Salem Civic Center this year. 
The free event will take place from 6-8 p.m. Wednesday, April 5 on the fields located on the right side of the center's main entrance. 
"The egg hunts will be spread out to ensure that all children have a fair chance to participate and hunts will start every 15 minutes with approximately 25 kids and parents in each event," according to a city news release. 
Age groups 3-4 and 5-6 will hunt for eggs on the back fields. Age groups 7-8 and 9-10 will hunt for eggs on the front fields. The city said children are only allowed to hunt for eggs in their respective age groups and that parents are allowed in the hunt areas but that only children can collect the eggs.
Vendors, including Little Critters Petting Zoo, Creative Expressions Face Painting, Salem Fire & EMS and MousePro Travel Agency, will be present. There will also be inflatables, crafts and the Easter Bunny. The Tailgate will be on hand with concessions. 
-The Salem Times-Register