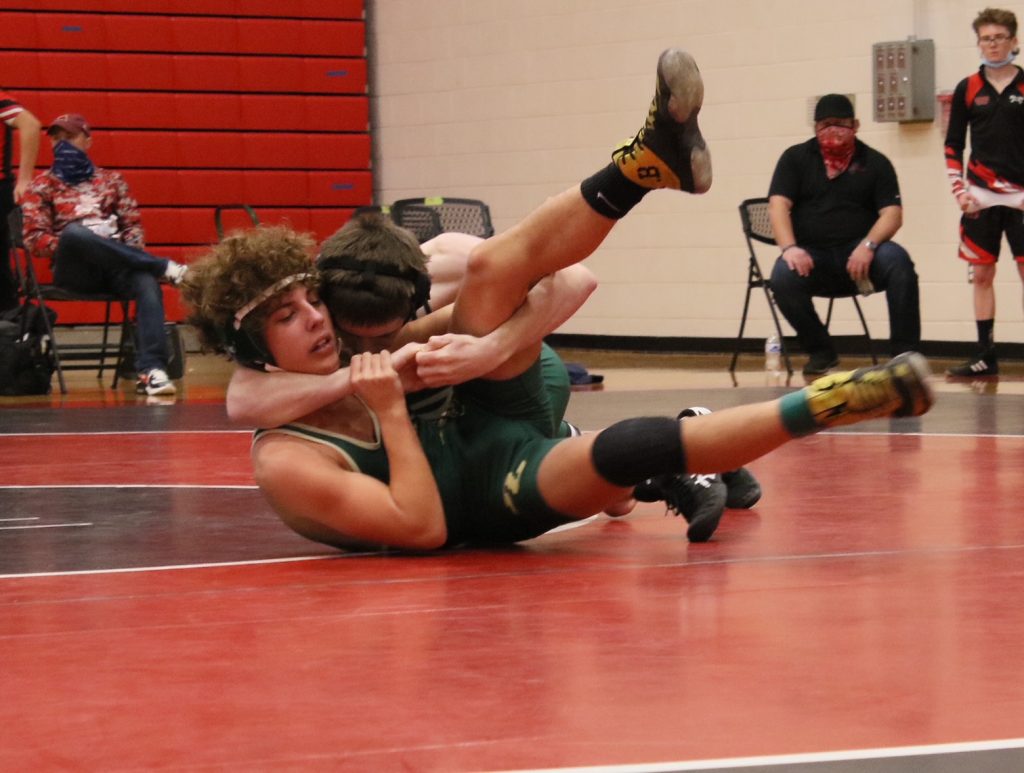 The Glenvar wrestlers will be competing in the state Class 2 wrestling tournament, which is scheduled for Friday at the Salem Civic Center. The tournament was still on at press time after the Class 3 tournament, scheduled for Thursday, was postponed due to the threat of bad weather.
The Highlanders are hoping to get on the mats Friday after a second place finish in the Region 2C championship at James River High School last week. The tournament was listed as a "sub-region," but when the regional at Patrick County was cancelled on Saturday the sub-region served as the championship round and host James River came out on top, followed by Glenvar.
The results from Tuesday's tournament were used for advancement to the VHSL Class 2 State Championships. The top two placers from each region will be entered into an eight man bracket, all wrestling for a state title.
In "non-pandemic" seasons four wrestlers from each region would advance to the state. Despite a much more difficult state qualifying scenario the Highlanders still managed to advance six of their 10 wrestlers to Salem.
Teamwise, James River scored 207.5 points with second place Glenvar trailing by 69 points with 138.5. Patrick County was third with 119.5, Radford had 83 points and Fort Chiswell scored 62.
Individually, GHS sophomore Mason Hylton had a dominating performance, pinning his opponent in the finals to reach his 2nd state tournament in a row and winning his first Regional Championship.  Mason came up one match short of placing at last year's state.
At 132 sophomore Jake Cline, who placed 3rd at last year's state tournament at the 120 pound class, wrestled last year's 4th place State Finisher from Patrick County. Jake was in control of the entire match and finished with a solid 6-2 decision to win his 2nd Region Champ title in a row.
Freshman Ethan Flowers executed two solid matches to decisively win his first Regional Championship at 138.  "Ethan has been improving all summer and is a great example of how the sport rewards those who work hard," said Glenvar coach Jason Cline.
The most anticipated match of the evening was at 145 where returning state champ Mason Stewart from James River and returning state runner-up Trey Lawrence, a sophomore from Glenvar, went head to head. Trey demonstrated a dominating performance to capture the title with a 15 point win over Stewart.
Senior Zach Moore of GHS won his third region title in a row in the 220 pound class. Zach wrestled a great match against a very strong Fort Chiswell opponent.  Moore has qualified for the State Tournament the last two seasons but has come up just short each time and is focused on reaching that podium for his last high school run at State.
At 113 sophomore River Smith made it to the finals and wrestled a close match with Craig Bowyer from James River before taking second.  This is River's first time qualifying for the State Tournament.
Matthew Harris took a third and Dakota Boyd was fourth in the region. In past years that would have qualified for the state but due to the pandemic only two from each region qualified, so they will be alternates for this year's state tournament.
"Overall I thought we had some really great performances including," said Cline. "We'll be spending this last week of practice really gearing for a great showing at the end of the week."