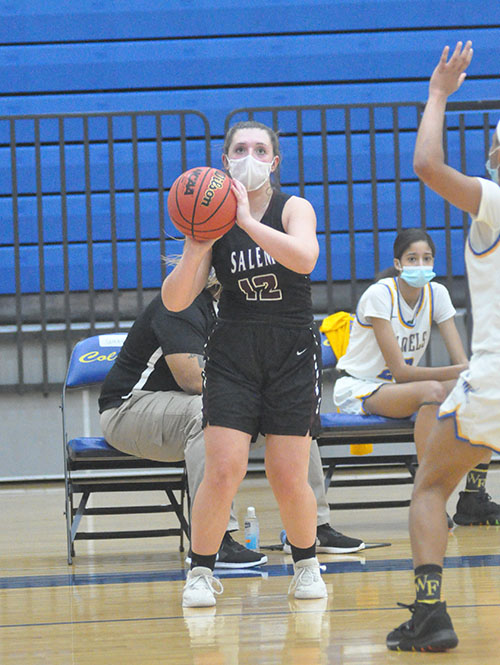 The Salem High girls saw their abbreviated basketball season come to an end with a 64-33 loss to Pulaski in the second round of the Region 4D tournament in Dublin last week. The Cougars were the top-seed in the tournament.
The Spartans played well early but trailed hot shooting Pulaski  12-5, at the end of the first period. Early in the second period starting center Abbie Baker suffered an ankle injury while garnering a rebound which kept her out the rest of the quarter and the first half ended with Pulaski leading, 28-17.
Baker would not return until later in the third quarter but by that point the score had grown to a 32-17 Pulaski lead and the Cougars would not be caught.
The Spartans were led in scoring by senior McKenzie Moran with eight points in her final game in a Salem uniform . Zoe Robitson added seven and Baker tallied six points .
With the loss the Spartans finished the season at 2-5. The five losses were all to Patrick Henry and Pulaski,  teams with a chance to win the State Title in their respective divisions. PH is in the Class 5 state semifinals and Pulaski in the semis in Class 4.
While the Spartans did not win the game they fought and battled every step of the way in this Covid season .The tough challenges they faced this season both on and off the court will make them even stronger next season .
"Covid brought a strange season to say the least," said first year Salem coach Berlyn Seitz. "I think this is the type of year that the girls will look back on as an adult and think about how much they learned outside the game simply because of the unique circumstances and the opportunities we were able to embrace.
"As a first year coach I could not have asked for a better turnout of players and support.  The girls resiliently pursued weeks of basketball without even knowing if we'd have a competitive season.  They worked hard every day and continued to show up with a smile on their faces despite people regularly telling them they wouldn't play.  We did in fact have a season, and a season with the toughest competition around."
Salem will graduate four seniors, Moran, Moriah Hill, Haley Merritt and Autumn Poole.
"We are losing four excellent seniors who played a big role for our team this year, both on and off the court," said Seitz. "Fortunately, we have a good group of upcoming juniors to add to our strong returners from this year's roster."