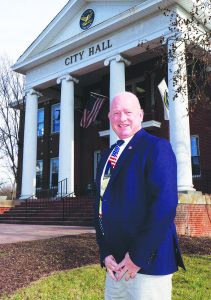 Aila Boyd
aboyd@mainstreetnewspapers.com
Hunter Holliday is the newest member of the Salem City Council, having been sworn in on Jan. 9. 
He won his seat on the council during last November's election. He ran against three other candidates for two seats on the council, securing 27.42% of the vote. Incumbent Randy Foley won the other seat. 
After growing up in Salem, Holliday moved away and was in the Army for 36 years. During that time, he still came back a couple of times each year to see family and friends. "I could see that the Salem I grew up in is not the Salem it is now, economic development wise," he said. 
He felt the need to run for office because many of positive aspects about Salem he remembers from his youth aren't around anymore. 
"I think you'll see some positive things happening in Salem," he said regarding the future.
Term limits
Holliday doesn't currently have plans to run for reelection. "You can never say never. At this point in my life, I think in four years I would like to retire," he said. "I have a bucket list of ideas I'd like to do personally." 
He thinks term limits on both the local and national level would be beneficial.
"I think there should be term limits. Once you have politicians that have been in the office for more than two terms, I feel that sometimes they become complacent," he said.
He said term limits would allow for representatives with new ideas to come into office instead of having incumbents who are focused on raising money for reelection. 
Economic development
The city, he said, has taken a step in the right direction in terms of reinvigorating its economic development outlook by hiring Tommy Miller to serve as the director of economic development. 
"I think he's doing a great job," Holliday said. "I think he's going to lead Salem in the right direction we need to be going in." 
Holliday explained that industry in Salem was robust when he was growing up, but that nothing has replaced the manufacturing operations that have closed down throughout the years. 
"There were good jobs. There were good paying jobs. People didn't have to go out and get two or three jobs," he said. "We don't have that to fall back on anymore." 
He said the council has had some missteps regarding economic development throughout the years. "There have been poor decisions that cost the city money and cost the city opportunities in terms of brining in businesses to the area," he said. 
Infrastructure
Holliday said he took note of the city's infrastructure, including roads, while he was visiting various neighborhoods while campaigning. In fact, he said he thinks he traveled every road in the city during the campaign. 
"The roads are a mess in Salem," he said. "We need to concentrate on our roads. We need to concentrate on some infrastructure as far as sewage. There's a lot of neighborhoods that when we get a lot of rain runoff that they get flooded, the basements get flooded." 
He explained that roads and sewer are his two top infrastructure priorities, adding that he thinks he can get support from other council members to address the issues. 
Schools
He noted that the school division has historically been strong, but noted "there is room for improvement," especially now after the impact COVID-19 had. 
"I think Curtis Hicks, our new superintendent, is headed in the right direction, but we have some more things to do to get our schools up to par," he said. 
Open-door policy
Holliday said he has an open-door policy and welcomes thoughts and insights from others. He noted he occasionally gets recognized in the grocery store by residents who want to talk with him about the city. He said he welcomes that type of engagement. 
"My door is always open to the citizens of Salem. My number is readily available," he said. "I try to make myself available. I think as councilman you'll see me attending many functions, as many as I can go to because I feel that it's part of the job."