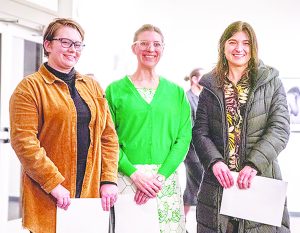 Top honors in the 2023 Biennial Juried Exhibition hosted by Roanoke College's Olin Hall Galleries went to textile artist Alex Foster, miniaturist Amanda Kelly and mixed-media creator Denise Laplante. 
The awards were presented by Laura Dvorkin, exhibit juror, who evaluated over 537 submissions to create the final gallery of 74 works from 55 artists. 
The on-campus exhibition, first held in 1990, is organized every two years to showcase the work of diverse regional artists who are based within 200 miles of Roanoke College. Mediums featured this year include painting, sculpture, graphic design, ceramics, textiles, mixed media, video, photography and more.  
The event was made possible by support from the Joanne Leonhardt Cassullo Center for Art. Each award is paired with a financial prize for the artist. The first-place winner also will be invited to mount a solo show at Olin Hall Galleries next year. The 2023 exhibit winners were: 
First place: Alex Foster, of Roanoke, for their hand-quilted, hand-dyed piece, "Cycles of Becoming"  
Foster is an interdisciplinary artist specializing in natural dyes and plants on fabric. They've served as a studio assistant for Aya Fiber Studio on Florida's Treasure Coast, an apprentice costume stitcher for the American Shakespeare Center and work-study fellow with Arrowmont School of Art and Craft. Foster teaches workshops across the Appalachian region. More information about their work is available at fosterfiber.com. 
"I collect leaves locally, be it a busy street, my childhood home, or a mountain path. Each leaf has a story to share, an inner essence of the people, the animals, and the world it has encountered. The cloth acts as a medium for conveyance," Foster wrote in their biography. "The culminated print serves as a portrait of landscape, defining time and space in conjunction with nature."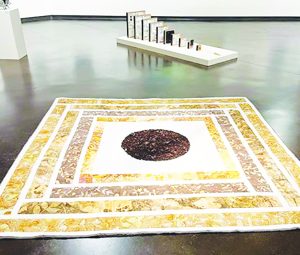 Second place: Amanda Kelly, of Roanoke, for her highly detailed work, "Hoarder's Porch" 
Kelly, a graduate teaching fellow pursuing her master's in fine arts at Radford University, crafts miniature, 1:12th-scale scenes and dioramas that challenge the idea of traditional dollhouses. Her work has been used by Dreamworks, Disney and Coca-Cola, as well as featured in exhibits by the Museum of Museums in Seattle, Blackbird Gallery in New York City and Shenandoah Valley Arts Center in Waynesboro, among others. More information about her is available at pandaminiatures.com. 
"The focus of my work has always been my fascination with the accumulation of objects. As humans, we have a natural urge to collect items that hold meaning to us," she wrote in her biography. "My miniatures explore themes of loneliness, emptiness, and realism framed in a small, curated snapshot."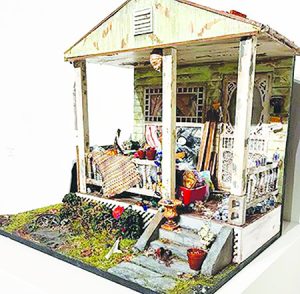 Third place: Denise Laplante, of Roanoke, for her wonderful submission, "Mother's Little Helper" 
Laplante, an artist and a respiratory therapist, created her fun-loving piece during the pandemic as a COVID-safe means of handing out Halloween candy for children. The little helper, which stands about 2 feet tall, was crafted using a grabber device, faux fur, stuffing, thread and felt. 
The 2023 Biennial Juried Exhibition will be on display from 1 to 4 p.m. daily until March 26. Exceptions to the schedule occur during college breaks and holidays when Olin Hall Galleries is closed.  
The galleries are free and open to the public. More information about upcoming spring events can be found at olinhallgalleries.com.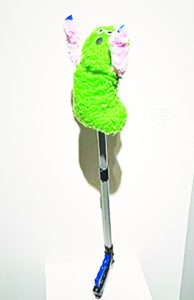 Olin Hall Galleries is dedicated to bringing together local, national and international artists to curate thought-provoking, multi-layered experiences for students and visitors. The venue's exhibits, lectures and workshops celebrate contemporary works by both emerging and established artists. 
The 2023 Biennial Juried Exhibition's juror, Laura Dvorkin, is with The Bunker Artspace: Collection of Beth Rudin DeWoody in West Palm Beach, Florida. Dvorkin is also associate art consultant for the Eventi Hotel in New York City, co-curator of 53 West 53 and the Residential MoMA Expansion Tower, also in New York City, and consults on acquisitions for private clients. Her recent exhibitions include "In The Absence of Light: Gesture, Humor and Resistance in The Black Aesthetic" for the Rebuild Foundation in Chicago and "A Very Anxious Feeling: Voices of Unrest in the American Experience" for the Taubman Museum of Art in Roanoke. 
-Roanoke College