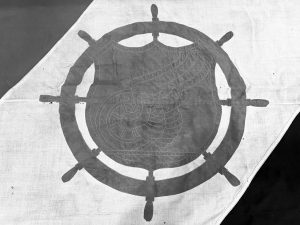 On June 6, 1944, today remembered as D-Day, Allied troops landed on the beaches of Normandy, beginning the invasion to reclaim France.  It remains the largest seaborne invasion in history, and was a pivotal moment in WWII. 
This flag was on USAT George W. Goethals, a transport ship that delivered soldiers to Normandy. The flag shows the emblem of the Army Transportation Corps: a winged train wheel on a track over a shield representing a highway marker and a ship's wheel, indicating the four main areas of army transportation: land, sea, air, and rail.
Tonight, learn more about a local soldier's role in D-Day. William Dabney was one of many African American soldiers who participated in the landing in the D-Day Invasion of Normandy, France.  Tonight, author and historian Forest Jones will share Mr. Dabney's story as part of the Salem Museum's Speaker Series. The program will be presented on Zoom only. The Zoom link will be available on the Museum's web site, salemmuseum.org.
You can see this WWII Ship Flag on display this weekend at the Salem Museum.  Salem Museum is open Tuesday-Saturday 10 a.m.-4 p.m. and located at 801 E. Main St.