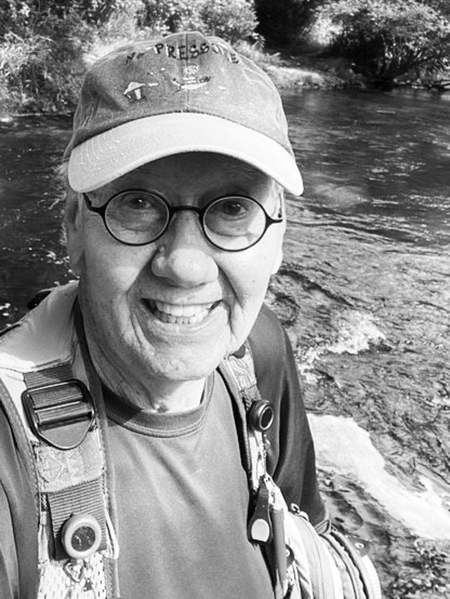 Robert Ellis Jenkins, 83, of Salem, VA., passed away on Wednesday, July 12, 2023, with his loving family surrounding him.  His death followed several years of challenging health issues, yet he kept his positive outlook and love for life and those he held close to his heart.
Bob was born in Brooklyn, NY.  His parents, Ellis Avery, and Mabel Gesner Jenkins preceded him in death.
He is survived by his children, Glenn R. Jenkins of Floyd, VA. and Katherine S. Jenkins of Kauai, HI; his former wife and lifelong friend, Diane Giessler; sister, Margaret "Peggy" Guglielmetti of NJ.; niece, Christina McNamara of NJ.; and nephew, Robert Guglielmetti of CO.
Bob graduated from East Rockaway High School on Long Island, NY in 1957.  He graduated from Roanoke College in 1961 with a degree in Biology.  He was a brother in Sigma Chi fraternity.  He attended Virginia Tech in a Masters Program and then was employed at The Smithsonian Institute in the Ichthyology laboratory.  The following year, he entered a Doctoral Program at Cornell University.  Although he had on-going studies with other fish species, it was at this time his interest in Sucker fish peaked and he chose them as the subject of his 800+ page Ph.D. thesis.  He returned to Roanoke College in 1968 to teach and continue his research.  In the late 70's he worked at Virginia Commonwealth University in Richmond, VA. for 2 years.  However, missing the mountains, friends, and trout fishing in cool waters he returned to Roanoke College.  He retired from RC in 2007 after 40 years of service.
During his tenure at VCU in Richmond, Bob began training for Richmond's first marathon.  Much to his surprise, he not only finished his first marathon but completed the course in less than 3 hours which automatically qualified him for the Boston Marathon.  Like most activities in his life, he never did anything halfway.  He went on to run many long-distance races including the Boston Marathon where he finished second place in the Masters division with a time of 2:24:08. Bob ran cross-country for Roanoke College and because of his many other athletic accomplishments was inducted into the Roanoke College Athletic Hall of Fame in 1980.
His greatest scientific accomplishment was the completion of the definitive book on the "Freshwater Fishes of Virginia".  During his tenure at Roanoke College, he established himself as the world's leading authority on sucker fish and played a key role in bringing this rare species back from the brink of extinction.  Bob's research and particularly his care and involvement of students and research are among the reasons for Bob's several accolades including the Thomas Jefferson Medal for Outstanding Contributions to Natural Science (1989, awarded by the Virginia Museum of Natural History), the Sesquicentennial Distinguished Alumnus of Roanoke College and the Professional Achievement Award of Roanoke College (both awarded in 1992), and the establishment of the Robert E. Jenkins Undergraduate Scholarship by the Virginia Chapter of the American Fisheries Society, which has been awarded annually since 2003.  Bob's research continued for the entirety of his life, was his greatest passion, and brought him much joy.
Bob was introduced to fishing by his dad at a young age and fly fishing for native trout quickly became his favorite pastime. He enjoyed tying his own flies to mimic the patterns of insects that inhabited the streams and assessing stream conditions and what was hatching before ever making a cast.  He most always practiced the art of catch and release, with an occasional trout and eggs for breakfast if he knew the fish were harmed.
Bob had an amazing memory for details and was a great storyteller. He loved watching sports of all kinds, and his favorite team was the Brooklyn Dodgers. He nurtured his flower gardens and became enthralled with exotic daylilies.  He enjoyed observing all kinds of wildlife, but birds were a close second to fish.  He was an aquarist and created aquariums with schooling fish and live plants that mimicked natural habitats.  He was fascinated with dinosaurs and had a large collection of books on the subject.  Bob was an avid reader of everything but especially enjoyed a great novel.  His favorite movie was "Field of Dreams".  He was passionate about bicycling and enthusiastically followed the Tour de France.  Bob loved music and would often be heard driving around town listening to his favorites, "Pink Floyd" and the "Grateful Dead".
Bob left an indelible mark on the lives of all who had the privilege of knowing him.
A "Celebration of Life" is planned for 11 a.m. on Saturday, September 16, 2023, starting with a service in the Antrim Chapel on the Roanoke College campus followed by live music, storytelling, food, and drink in the Olin Courtyard and Amphitheater until 3 p.m.
Online condolences may be expressed at www.johnmoakey.com.