The Roanoke College men won their fourth straight basketball game with an 81-52 victory over Emory & Henry in Salem Tuesday night. The Maroons are now off until Thursday, February 11, when they host Washington & Lee.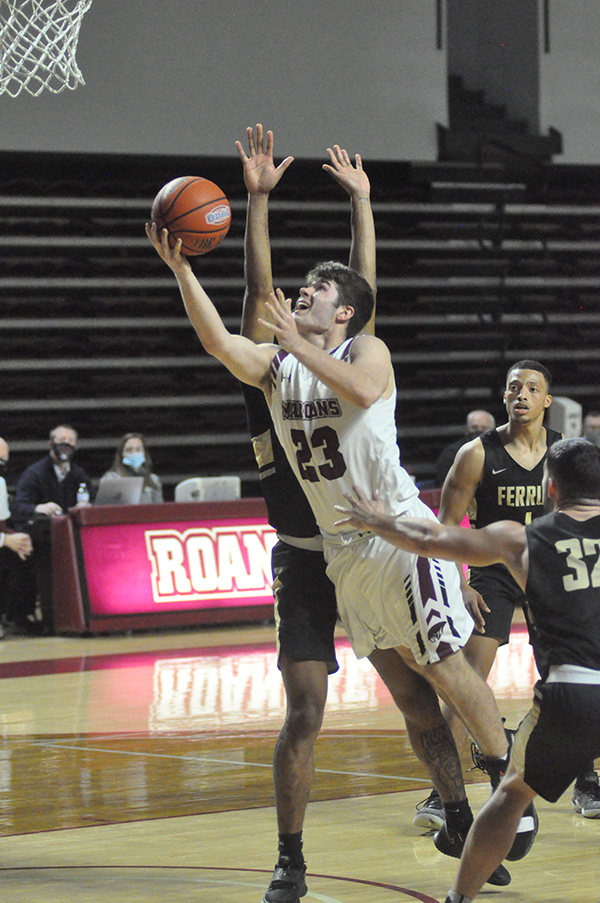 Roanoke jumped all over the Wasps, racing to a 43-25 lead by the half. Justin Kuthan came off the bench to lead the Maroons with 17 points on seven for nine shooting from the floor while grabbing seven rebounds. Kasey Draper had 16 points, hitting two of three three-pointers, while Efosa Edosomwan had 15 points and seven rebounds. Trent Dawson had nine points and four assists.
Roanoke won two close ones last week. On Thursday Draper hit a bucket with 2.4 seconds to play to give the Maroons a 49-48 win over the Panthers at the Cregger Center in Salem. The game featured six lead changes and six ties before the Maroons prevailed.
Draper posted a double-double with 17 points and 11 boards. Edosomwan added nine points and four steals while Ethan Rohan finished with six points, eight rebounds, and three steals.
On Saturday night the Maroons pulled out another close one, 61-59 over visiting Shenandoah. The game was tied at 49-49 with 10 minutes to go and the lead changed hands down the stretch, with the Hornets taking a 58-57 lead with 3:55 to go.
Tripp Greene gave the edge back to RC at 59-58 and Edosomwan hit a layup with 1:20 on the clock for a 61-58 lead. The Hornets got to the line for a pair with :45 to play, but only hit one of two.
On the ensuing possession, Rohan would save the day when the sophomore dove on the floor for a loose ball and alertly called a timeout to prevent a fast break opportunity. The Maroons didn't score and that led to a flurry of timeouts by both benches. Shenandoah had one last chance, but the Hornets were on the line on a drive to the baseline, giving the ball back to Roanoke. The Maroons got the ball inbounds and dribbled out the clock for the two-point win.
Edosomwan led RC with 15 points while Draper added 12 and six rebounds. Kuthan and Jim Coulter combined for 15 of Roanoke's 16 points off the bench. Rohan scored six and grabbed 13 rebounds with a pair of blocked shots.
After the big week Roanoke College coach Clay Nunley was named NCAA DIII Coach of the week by HoopDirt.com.  This is the sixth season that HoopDirt.com has run the Coach of the Week and Coach of the Year programs. Nunley is now eligible to receive the HoopDirt.com National Coach of the Year Award presented by Just Play Solutions which will be announced at the conclusion of the 2020-21 college basketball season.