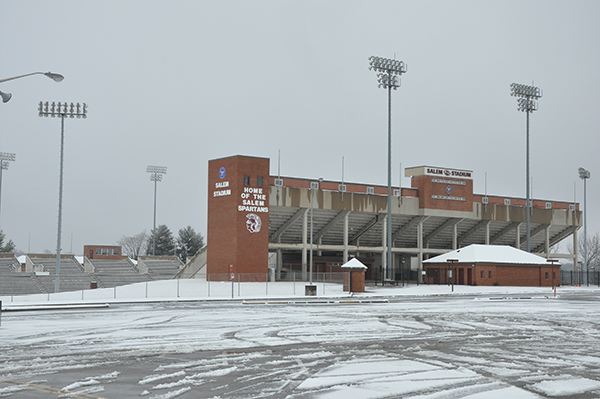 Normally the Super Bowl signals the end of football season, but not this year. For Virginia high school teams, it's just beginning.
Football practice officially starts on Thursday of this week by the Virginia High School League athletic calendar during the coronavirus pandemic. Both Salem and Glenvar will begin official practices tomorrow, although athletes have been conditioning according to protocols prior to this week.
This will be a different kind of preseason practice for the teams. Normally, prior to the fall season, temperatures are in the 90s for August workouts. With the fall season moved to the end of winter and early spring the temperatures are about 60 degrees colder and snow is still around from last weekend's storm.
Thankfully, both local teams have artificial turf fields to practice on. Salem will practice on the Spartan Field turf in front of the high school and Glenvar will be using the Highlander Stadium turf, as they usually do.
"We're never coming off that field," said Glenvar coach Kevin Clifford, who practiced on the upper, grass field before the turf field was installed. "It's convenient and it's a great place to practice."
Glenvar's first practice will begin at 2:45 pm today and Salem will begin at 4:10 pm. Protocols will be required.
"The coaches will have to wear masks and the players can choose to wear a mask or a splash guard on the helmet," said SHS coach Don Holter. "The splash guards tend to fog up on a cold day, so I imagine a lot of them will be wearing masks."
Salem will go three days of helmets and cleats, then two days with shoulder pads before hitting begins.
"We'll be cleaning diligently," said Holter. "Whatever it takes, we'll handle it. Our kids want to play."
Clifford echoed those sentiments at Glenvar.
"We want to play," he said. "We'll follow the protocols verbatim and do the right thing."
The first games are scheduled for February 22nd, on a Monday. Salem is scheduled to open at home against Blacksburg, then play at Christiansburg on Friday, February 26.
Glenvar's schedule is yet to be determined, although James River has been mentioned as an opening day opponent. And, as has been the case since last spring, things can change with little notice.