By Charissa Roberson, Student Reporter
Freelance journalist and photographer Dan Smith has poured his extensive industry experience into
his newest work of fiction, NEWS! A Novel, which will be released on July 31. This novel follows a young
journalist named Eb McCourry as he navigates the changing world of print journalism in the late '60s.
Whether you follow the news closely or simply find the life of a journalist intriguing, this book will have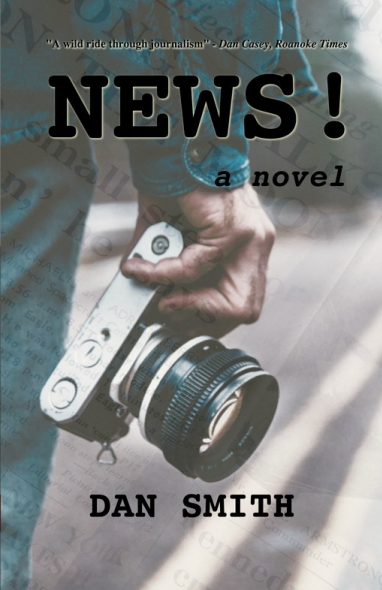 something for you. Smith's hands-on and up-close experience as a journalist himself (a former editor of the Salem Times-Register, among other accolades and positions) shines through in the novel, which is replete with interesting details that could only come from someone who has been in his characters' shoes. How does a journalist interact with police and government officials? How many sources do they need for a credible story? What is "the morgue"? These are only a few of the questions and situations explored in Smith's new novel.
NEWS! offers an inside perspective on the world of journalism, specifically in the 1960s. Civil rights
movements, new ways of reporting and electric typewriters are among a few of the crucial changes
going on during the period of journalism covered in NEWS!. Main character McCourry has to confront these changes while proving himself as an up-and-coming reporter ready to tackle some of the biggest stories of the day. Alongside him is a cast of diverse characters, including Ella, the paper's other star reporter, who consistently stands out for her work ethic and boldness. Smith conducted research to learn how Ella, who is deaf, would work and thrive in an entirely hearing work environment. The novel's unique setting in Asheville, North Carolina, where Smith is originally from, also grounds the story in reality. Smith paints a colorful, multifaceted image of this city and the area surrounding it. When you finish reading, you may feel as if you have visited the city yourself. The novel benefits from focusing on one particular newspaper in one particular city, allowing Smith to fill the novel with descriptive details drawn from his lived experiences.
Despite Eb McCourry's central status, the main character of this book is truly the news itself (fitting
well with the title). We see horrific accidents, scandals, and murders play out through the pages of
newsprint. We follow along as the reporters race to track down sources, quotes, scoops. Smith shows us how journalists take a smattering of facts and construct it into a well-researched, gripping article. Both McCourry's newspaper and the standard practices of reporting go through changes throughout the novel. The characters, however, experience less substantial change. Think of this book as a "year in the life" of a rising young journalist and his teammates. There are few major setbacks or moments of soul searching for the characters themselves. McCourry hardly ever has a failure to wrestle with as he meets with success after success. The book is less about the characters' internal struggles and more about
giving readers a peek into the inner workings of a newspaper. Taken as such, NEWS! is an educational,
interesting and exciting read. When you're done, you will understand journalism better and likely have a
greater appreciation for those writing the news every day.
While the book clearly emphasizes its supportive stance for issues such as racial equality and
women's rights, and features several strong female characters, some moments still register as
uncomfortable. One such example is an explicit scene of sexual assault towards a female character.
While the act is treated as despicable and horrifying in the novel, one has to ask the question of why the
scene was included at all. The assault does little to nothing to advance the plot, and a few chapters later
everyone seems to have forgotten about it completely. If this assault, as horrible as it is, had had a
significant impact on the novel or had given the main characters a serious internal struggle to grapple
with, it would have been understandable. As it is, the sexual assault feels unnecessary and out of place,
and the author risks seriously disturbing some readers by its inclusion.
Despite some questionable moments, however, overall NEWS! is an entertaining read with
interesting insights into the world of journalism. Dan Smith has drawn on his own experiences to craft a
work of fiction that blends realistic details with a fresh new story. If you would like to learn more about
reporting in the 60s in Asheville, pick up NEWS! A Novel when it releases on July 31 – and support local
author Dan Smith, who currently resides in Roanoke, VA.
The book's launch will take place at Hollins College on July 31. After the release, Smith will be
doing a signing event at the Vinton Museum on Friday, August 5 at 11 a.m.