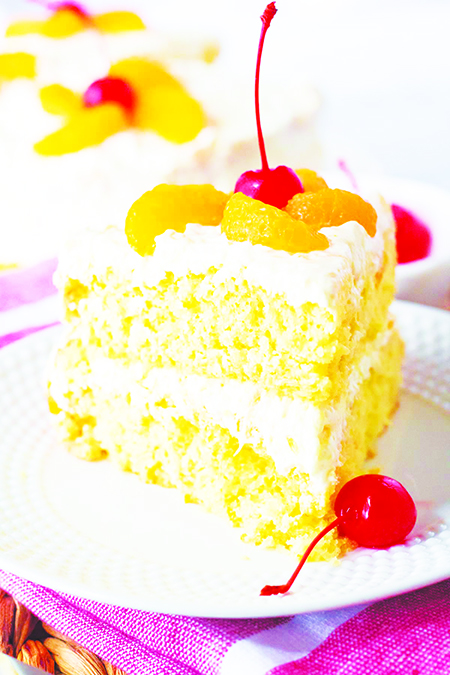 While I searched our archives for content ideas, I found a recipe for Pig Eating Good cake. I have never heard of this cake, but once I looked at the ingredients I realized it was the same cake I had eaten growing up in the Midwest. We called it a Sunshine cake. This vanilla cake has mandarin oranges to help keep it moist and add a sweet citrus flavor. Once cooled it is usually topped with a whipped frosting with crushed pineapple including the juice. It was an easy favorite of my mom to take to potlucks and church luncheons. A search on Google for Sunshine cake gave me 501,000 results. There were 847,000 results for pig picking cake. This legendary dessert has some deep roots. In the South, they call it a Pig Picking cake, Pea Picking cake, Pig licking cake, or Piggy cake. It is usually found at picnic, pot lucks and pig roasts. In the Midwest, its named Orange-Pineapple cake, Sunshine cake, Sunny cake, Hawaiian cake, Florida cake, or Juicy cake. Crisco advertised a recipe for Sunshine cake in 1916. I even found a recipe from the 1935 Los Angeles County fair. The earliest recipes use egg yolks and egg whites for a sponge cake with orange and lemon flavoring.  As boxed cake mixes came into fashion, these replaced the complicated cake recipes and made it an easy cake to mix up. Most recipe books I studied had a recipe of this cake in some version.  I found recipes by the Pioneer Woman, Paula Deen, and Betty Crocker.  Substitutions and additions are frequently made, such as adding chopped nuts or coconut to the frosting.  Whatever you call it, it is a summer cake that is easy to make, travels well, and is loved by many. 
Recipe:  Pig Picking cake, Sunshine Cake
Pig Eating Good Cake from our favorite hometown recipes volume II
Cake:
Combine :
One box vanilla butter cake mix
Four eggs
1 small can (11 ounces) mandarin oranges, undrained
½ cup oil
Pour into 2 prepared   9-inch layer pans. Bake at 350°F for 30-35 minutes. Toothpick comes out clean. Cool completely.  
Frosting:
Combine one 8-ounce carton Cool Whip (thawed), one can drained crushed pineapple, one 3-ounce box instant vanilla pudding. Frost cooled cake. Store in the refrigerator. 
Tips:
Use a 9×13 inch pan. Use nonstick cooking spray to prepare pan. Make sure cake is completely cooled so frosting does not melt.  Substitute different instant pudding flavors, (I have used cheesecake flavor and it was great!)  Add coconut, chopped nuts, or chopped maraschino cherries to frosting.  Try it with only oranges in the cake and frosting. Keep cool until serving.